It's almost here – the end of summer. Instead of fast-forwarding to autumn, consider throwing your residents a fun Last Day of Summer party with fun summer-themed activities throughout the day. Here are eight activities from notjustbingo.com to add to your activity calendar on the last day of summer, on Friday, September 21st.
10:00 am Backyard Beach Volleyball
Start the day by getting your residents up and moving with a fun game of backyard beach volleyball. Attach a volleyball net to a few trees or posts in the backyard and have residents sit on either side to play one last summertime volleyball game. Use a large beach ball to make it easier for residents to hit the ball over the net.
11:00 am Kite Decorating
Bring residents back indoors for a fun kite craft, in which they get to decorate their own kites. Assist residents with using the markers included in the kit to personalize their kites.
12:00 pm BBQ
Get residents cleaned up for a special barbecue lunch. Coordinate with Dining Services to grill hamburgers and hot dogs for residents to enjoy on the back patio.
1:00 pm Bubble Blowing
After lunch, encourage residents to move to the front of the facility to sit and chat on the front porch. While there, provide residents with their own bubble containers to blow bubbles into the air.
2:00 pm Kite Flying
Try to eliminate that afternoon slump by getting residents back up and out in the backyard to fly the kites that they decorated earlier today. Space out chairs along the backyard for residents to sit and fly their kites. Be sure to recruit volunteers and staff members to assist residents with getting the kites up in the air.
3:00 pm Largest Ice Cream Sundae Ever
Take an inflatable kiddie pool and fill it with various flavors of ice cream and toppings to make the largest ice cream sundae ever. Host a facility-wide ice cream party for residents and staff to stop by and fill their ice cream bowls with the ice cream.
4:00 pm Sandcastle Contest
Move residents back to your backyard patio to participate in a sandcastle contest. Beforehand, purchase sand from your local home improvement store, and lay out tablecloths over each of the back patio tables for residents to build sandcastles with the sand.
Encourage each table of residents to work together as a team to build the best sandcastle. Provide each table with their own molds and buckets and water for the activity. Recruit a few staff members to come in and judge the best sandcastle.
5:00 pm Fishing Party
Spend the last minutes of the summer in the backyard fishing with residents. Set up a duck pond with chairs set up around it. Add in a few magnetic fish and pass around a few rods for residents to try to reel in a few fish as they await dinner.
About Not Just Bingo: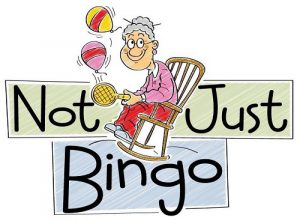 Not Just Bingo is an online resource of fun, senior activity ideas for activity professionals of nursing homes and assisted living facilities. They have been providing fun activity ideas online since 2009, and continue to assist activity professionals across the country by creating meaningful and engaging activity ideas for their residents that go "beyond bingo." Not Just Bingo feels privileged to help activity directors better the living experiences of their residents while demonstrating that a senior's quality of life can actually improve when they move to a nursing facility!
Want even more ideas each month? Sign up for the Notjustbingo Membership to receive specialized activity ideas to keep your residents and staff engaged, active, and having fun!