Need some Fall themes and ideas for your fall activity calendars? Here are a few to try for the September, October and November months.
Fall Harvest
Host a variety of activities relating to the fall harvest, like a Fall Harvest Garden Party to harvest your summer's vegetables, a Fall Harvest Tea Party to enjoy the autumn flavors of cinnamon and apple, or a Fall Harvest Pie Bake-Off to have residents share their homemade recipes with your kitchen staff, who can bake the pies for everyone to sample. Add a craft to the harvest theme, like making a weaved basket with yarn.
Apple Cider
Celebrate this season of apple cider by scheduling a weekly apple cider social for residents to enjoy. Add in other apple-theme activities like an Apple Pie Tasting, an Apple Peeling Competition (showcasing who can produce the longest continuous peel of an apple), or a Trip to an Apple Orchard. We also love this simple paint pallete watercolor activity to go along with the apple theme. 
County Fair
This time of the year also brings about local county fairs. Turn your Activity Room into a fun County Fair with carnival games like a ring toss game, a beanbag toss game, or even an animal balloon-making class. Additionally, check out your local fairs and schedule a trip to take your residents.
Fall Football
Organize easy-to-plan Tailgate Parties around your locally televised football games. The parties can be as simple as having residents munch on popcorn while watching the game in your Activity Room.
Sunflower Blossoms
Use the season's flowers for decoration ideas in your facility. For example, if you have sunflowers in your garden, be sure to involve your Flower Club to use them when filling vases to place throughout your facility. You can also plan a collaborative art activity using stickers to create a mosaic sunflower poster.
Mums Potting
Take residents on a Trip to the Garden Center in your area to pick out colorful mums that can be planted around your facility for fall. In addition, schedule a Fall Planting Party to get residents to decorate planters that can also be used inside your facility.
About Not Just Bingo: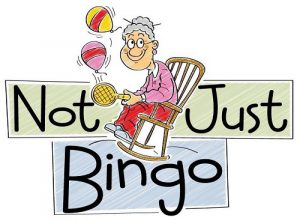 Not Just Bingo is an online resource of fun, senior activity ideas for activity professionals of nursing homes and assisted living facilities. They have been providing fun activity ideas online since 2009, and continue to assist activity professionals across the country by creating meaningful and engaging activity ideas for their residents that go "beyond bingo." Not Just Bingo feels privileged to help activity directors better the living experiences of their residents while demonstrating that a senior's quality of life can actually improve when they move to a nursing facility!
Want even more ideas each month? Sign up for the Notjustbingo Membership to receive specialized activity ideas to keep your residents and staff engaged, active, and having fun!