National Aviation Day is August 19th! Invite the grandkids to stop by your senior living facility and celebrate the observance with your senior residents by partaking in a few aviation themed activities.
1. Building Airplane Models
Provide residents and their grandkids with airplane model kits for them to assemble. Use simple glider kits or for a fun theme for residents, use these foam gliders.
2. Making Paper Airplanes
Instruct residents and their grandkids on how to fold paper airplanes. Demonstrate several different kinds of airplanes for the group to test-out to see which type of paper plane flies the farthest.
3. Painting Planes
Supply residents and kids with foam planes that can be easily painted and decorated. In fact, host an airplane decorating contest and have other residents vote on "Most Patriotic" or "Best Design".
4. Assembling Bird Gliders
In addition to airplanes, add in fun bird gliders for the kids to enjoy. Use easy-to-assemble bird gliders that the group can color before assembling and letting them fly.
5. Participating in a Kite-Flying Contest
Invite residents and kids to pair up for a fun kite-flying contest. Provide plastic kites for them to decorate before going outdoors to see whose kite flies the highest.
6. Throwing Rocket Javelins
Organize a rocket javelin-throwing contest by supplying participants with rocket javelins to see who can throw them the farthest.
7. Launching Rockets
Have fun with residents and their grandkids as you assist them with launching rockets in the air. Use stomp rockets to see how high they can get the rockets into the air.
Find more ideas from Notjustbingo on the S&S blog here.
---
About Not Just Bingo: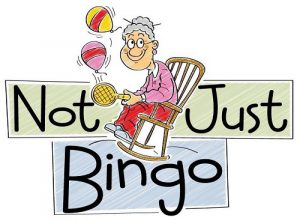 Not Just Bingo is an online resource of fun, senior activity ideas for activity professionals of nursing homes and assisted living facilities. They have been providing fun activity ideas online since 2009, and continue to assist activity professionals across the country by creating meaningful and engaging activity ideas for their residents that go "beyond bingo." Not Just Bingo feels privileged to help activity directors better the living experiences of their residents while demonstrating that a senior's quality of life can actually improve when they move to a nursing facility!
Want even more ideas each month? Visit www.notjustbingo.com for how-to activity ideas, monthly newsletters, and daily holiday ideas. You can also sign up for the Notjustbingo Membership to receive specialized activity ideas to keep your residents and staff engaged, active, and having fun!