Get your residents up and laughing this April Fools' Day! Incorporate a few of these 12 activity ideas from notjustbingo in your facility on April 1st.
Tell Jokes – Use a joke book to tell jokes and riddles to residents.
Host a Comedy Show – Encourage your funny residents to participate in a comedy show where they can share their comedic talents and funny jokes with others. If needed, provide residents with comedy material to use.
Play Pranks – As a fun one-on-one activity, recruit your resident to assist you with playing a few pranks on your co-workers, like turning up the volume or changing the mouse speed on their computers.
Organize a Riddles Contest – At the beginning of each mealtime, ask residents a different riddle to see if they can solve it by the end of the meal. If residents enjoy the activity, consider making this a weekly event, like Riddle Mondays.
Schedule an Intergenerational Game – Invite the grandkids to play a fun Balderdash game with your residents.
Plan a Comedy Matinee – Pick a funny comedy film for residents to watch in the afternoon on April Fools' Day. Pass out bags of popcorn for residents to enjoy.
Play a Game of Pantomime – Invite residents to tap into their inner jester by playing a fun game of Charades.
Coordinate an April Fools' Day Breakfast – Coordinate with Dining Services to serve an unusual breakfast for residents, like cereal with strawberry milk or toast with green eggs that are colored with food coloring.
Read Funny Limericks – Share funny limericks with residents. In fact, encourage residents to participate by passing out different limericks for residents to read.
Watch Funny Videos – Download a few funny cat videos or funny baby videos from YouTube for residents to watch and enjoy.
Play Funny Ball – Use funny-faced balls to play a tossing game with residents. To play, seat residents in a circle and have them pass the ball back and forth without dropping it. If the balls are too small for residents to use, simply draw funny faces on balloons and have residents toss the balloons back and forth.
Share Funny Sayings – Invite residents to play a funny sayings game in which they answer questions based on funny idioms and sayings.
About Not Just Bingo: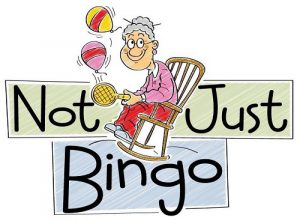 Not Just Bingo is an online resource of fun, senior activity ideas for activity professionals of nursing homes and assisted living facilities. They have been providing fun activity ideas online since 2009, and continue to assist activity professionals across the country by creating meaningful and engaging activity ideas for their residents that go "beyond bingo." Not Just Bingo feels privileged to help activity directors better the living experiences of their residents while demonstrating that a senior's quality of life can actually improve when they move to a nursing facility!
Want even more ideas each month? Visit www.notjustbingo.com for how-to activity ideas, monthly newsletters, and daily holiday ideas. You can also sign up for the Notjustbingo Membership to receive specialized activity ideas to keep your residents and staff engaged, active, and having fun!