Even though Mardi Gras is not until March 1st this year, there are a few supplies that you can begin gathering to make sure that you have a fun New Orleans-style celebration for your nursing home residents. Here are six supplies that you can grab right now:
1. Mardi Gras Beads – One way to get your residents into the Mardi Gras spirit is to pass out Mardi Gras beads for them to wear. Whether you are hosting a Mardi Gras lunch with po' boy sandwiches and gumbo or leading a Mardi Gras parade through your facility's hallways, Mardi Gras beads are an instant way to make the event more festive.
2. Mardi Gras Masks – Add in a bit of mystery to your Mardi Gras festivities with masks. Either provide plain masks for residents to decorate as a craft activity using feathers and beads, or provide ready-to-wear feather masks for residents to wear at a fun masquerade party. This easy pack also come with masks, beads and coins!
3. Noisemakers – If you decide to hire an entertainer for your Mardi Gras event, be sure to pass out bells or kazoos or noisemakers for residents to join in on the fun.
4. Balloons – Make your facility even more festive by adding colorful balloons in the colors of Mardi Gras: green (which represents faith), purple (which represents justice), and gold (which represents power).
5. Champagne Glasses – Pass around plastic champagne glasses and fill them with nonalcoholic champagne or sparkling apple cider for residents to enjoy. Invite residents to take turns making toasts to celebrate this last day of the carnival season.
6. Doubloons (Coins) – Use gold coins as part of your Mardi Gras activities. For instance, use them as party favors or table centerpiece decorations in your Dining Room for your Mardi Gras dinner, or hide them throughout your facility for residents to find during a day-long Mardi Gras Scavenger Hunt.
Find more ideas from Notjustbingo on the S&S blog here.
---
About Not Just Bingo: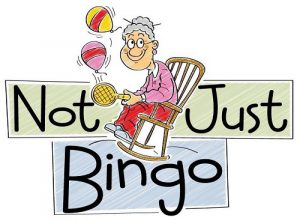 Not Just Bingo is an online resource of fun, senior activity ideas for activity professionals of nursing homes and assisted living facilities. They have been providing fun activity ideas online since 2009, and continue to assist activity professionals across the country by creating meaningful and engaging activity ideas for their residents that go "beyond bingo." Not Just Bingo feels privileged to help activity directors better the living experiences of their residents while demonstrating that a senior's quality of life can actually improve when they move to a nursing facility!
Want even more ideas each month? Sign up for the Not Just Bingo Membership to receive specialized activity ideas to keep your residents and staff engaged, active, and having fun!