Get your residents into the Fall team spirit! Host a tailgate party for residents to enjoy. Set up fun tossing games throughout your facility for residents to play before the big game begins.
Cornhole: Teach residents how to play the popular backyard game of cornhole using cornhole boards and bean bags. Divide residents into teams and have each team try to toss their bean bags into their opponents' cornhole board.
Ladder Toss: Play a game of ladder toss during your tailgate party by setting up the PVC ladders in your room and providing residents with bolos to toss onto the ladders. Award points to the teams whose bolos have remained on the ladders without falling off.
Horseshoes: Take out your horseshoes game as you encourage residents to pitch horseshoes to accumulate points for their team.
Darts: Use a darts set to host a darts tournament for residents and interested staff members. Simply hang the dartboard in an open area and provide participants with balls to show-off their tossing skills.
Washer Toss: Set up a fun, portable washer toss game for residents to play. Because this game is portable, it makes for an easy activity for volunteers to take to the rooms of your bedridden residents for a quick pre-Super Bowl exercise.
Ring Toss: If you have residents with hand motility issues, use an oversized tossing game for your tailgate party, like a super-sized ring toss game. Pass out the oversized, inflatable rings for residents to toss onto a large, inflatable ring base.
About Not Just Bingo: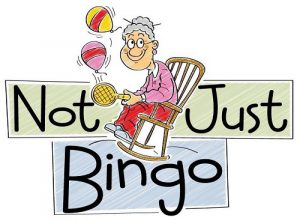 Not Just Bingo is an online resource of fun, senior activity ideas for activity professionals of nursing homes and assisted living facilities. They have been providing fun activity ideas online since 2009, and continue to assist activity professionals across the country by creating meaningful and engaging activity ideas for their residents that go "beyond bingo." Not Just Bingo feels privileged to help activity directors better the living experiences of their residents while demonstrating that a senior's quality of life can actually improve when they move to a nursing facility!
Want even more ideas each month? Sign up for the Notjustbingo Membership to receive specialized activity ideas to keep your residents and staff engaged, active, and having fun!