Autumn is here and it's time to start planning fun fall events for your residents. If you're looking for ideas, simply use upcoming observances as inspiration for your senior activities. For instance, try out the following seven themes as a guide for this year's autumn festivities in your senior facility.
Harvest Theme
Autumn Door Decorations – Provide residents with a wooden leaves craft kit to create autumn leaf decorations for your facility. Afterwards, assist residents with hanging the finished leaves as door ornaments on your residents' apartment doors.
Harvest Scenic Drive – Take residents on a scenic ride to a local pumpkin patch or animal farm. Along the way, stop by your favorite donut shop to pick up coffee and donuts for residents to enjoy on the bus once you reach your destination.
Fall Jigsaw Puzzle Competition – Set out a different jigsaw puzzle on each floor of your facility (or hallway) and invite residents to work on their jigsaw puzzle throughout the season to see which floor can finish their puzzle the fastest.
Fall Wine Picnic – Host a fall wine picnic in your Dining Room during lunchtime. Coordinate with Dining Services to serve comforting autumn picnic foods, like warm roast beef sandwiches and roasted butternut squash soup. During the lunch, pass out small glasses of autumn wine for residents to sample with their lunch.
Hot Toddy Social – Serve up hot toddies for residents to sip and enjoy during a cool autumn afternoon in your facility. During the social, pass around photo cards with autumn pictures to spark memories and to begin a fun, interactive discussion among residents.
Oktoberfest Theme
Beer Tasting – Since you can't have an Oktoberfest party without beer, pass around a few brands of nonalcoholic beer for your residents to sample. Encourage residents to judge the beer on taste, color, and smell.
Pretzel Making – Invite residents to assist you with making pretzels to celebrate Oktoberfest by using a pretzel maker. Provide residents with cups of mustard for dipping.
Back-to-School Theme
Intergenerational Party – Host an intergenerational back-to-school party with the grandkids of your residents to celebrate the new school year. Set up several crafts tables for residents and their grandkids to make fun back-to-school crafts, like journal decorating or pencil case decorating.
Coloring Party – Invite a local elementary school class to join your residents in a fun coloring party. Pass out coloring books for the kids and adults, which can be colored using crayons or colored pencils. Be sure to serve milk and cookies to the participants.
Football Theme
Sunday Tailgate Party – Host a weekly tailgate party for your facility's football fans before your local NFL team's game. Coordinate with Dining Services to serve fun football food like nachos or pigs in a blanket. Meanwhile, set up a football-themed game for residents to play before the televised game starts, like a football toss game.
Half-Time Show – During half-time of the game, plug in your karaoke player and invite residents to have fun singing a few oldies.
Backyard Football – Invite the grandkids to play a fun game of flag football in your facility's backyard and invite your residents to watch. Use a flag football set for the kids as they have fun running back and forth in the yard. Pass out hot cider for residents to enjoy as they root on the mini athletes.
Breast Cancer Awareness Month
Breast Cancer Awareness Fundraiser – Celebrate Breast Cancer Awareness Month (October) with your residents by having them make breast cancer awareness bracelets using beads and jewelry cording. Sell the finished bracelets to raise money for a local breast cancer awareness charity.
Bake Sale – Each week in October, host a bake sale by recruiting your facility's Baking Club to make a variety of baked goods to sell to raise money during this Breast Cancer Awareness Month.
Halloween Theme
Alfred Hitchcock Matinee – Check out an Alfred Hitchcock movie from your local library to host a suspenseful afternoon matinee in your Activity Room. Provide residents with Halloween bags filled with goodies like freshly popped popcorn for them to enjoy while watching the movie.
Halloween Candy Taste Test – Invite residents to your annual Halloween candy taste test so that they can sample this year's most popular candy. Be sure to provide sugar-free candy for your diabetic residents.
Halloween Party Favors – Recruit your facility's Beading Club to string beads to make Halloween bracelets that can be given out as party favors to kids during the Halloween season.
Masquerade Dinner – Celebrate Halloween with residents by hosting a fun masquerade dinner in your facility's Dining Room. Use pre-made masks that residents can easily decorate with paint, foam pieces, or sequins.
Mask-Making – Invite the grandchildren for a fun intergenerational project to make Halloween masks with your residents. For the project, pass out colorful markers for participants to fill in the pre-printed masks. Take plenty of pictures of the participants wearing their masks.
Thanksgiving Theme
Thanksgiving Pie Bake-Off – Recruit your facility's Baking Club to make a few Thanksgiving pies, like sweet potato, pumpkin, and pecan. Pass out chef hats for residents to wear as you assist them with rolling out the pie dough to make the delicious pies. Serve the finished pies for your afternoon social, making sure that residents vote for their favorite.
Name That Thanksgiving Spice – Coordinate with Dining Services to swipe a few of their dried Thanksgiving spices (e.g., rosemary, ginger, allspice, nutmeg, clove, pumpkin pie spice) to place into small cups to pass around to see if residents can guess the spice by smell.
Best Thanksgiving Side Dish – Reminisce with residents about their past Thanksgiving dinners as you go around the room asking residents to name their favorite Thanksgiving side dishes. Encourage residents to name the ingredients that they used to make their favorite side dish.
Wooden Turkeys – Enlist the help of residents to paint wooden turkeys that can be used as table centerpieces or decoration for your Thanksgiving holiday.
---
About Not Just Bingo: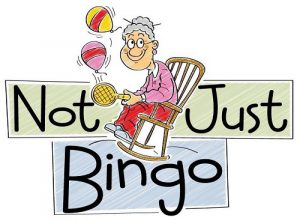 Not Just Bingo is an online resource of fun, senior activity ideas for activity professionals of nursing homes and assisted living facilities. They have been providing fun activity ideas online since 2009, and continue to assist activity professionals across the country by creating meaningful and engaging activity ideas for their residents that go "beyond bingo." Not Just Bingo feels privileged to help activity directors better the living experiences of their residents while demonstrating that a senior's quality of life can actually improve when they move to a nursing facility!
Want even more ideas each month? Sign up for the Notjustbingo Membership to receive specialized activity ideas to keep your residents and staff engaged, active, and having fun!