Oktoberfest is coming and it's time to get your facility ready for this fun, annual celebration. Here are a few things to keep in mind when planning your Oktoberfest:
Oktoberfest actually starts in September, so you better get a move on to get your facility in shape for your festivities. Oktoberfest in Munich, Germany actually runs from September 17th through October 3rd this year. While most of the celebration is in the month of September, Americans tend to celebrate in the month of October. One benefit of celebrating in early October is that it allows you to have separate activities in late September for the arrival of autumn and in late October for Halloween – without everything running together.
The colors of Oktoberfest are actually blue and white. While it's usually easier to just use our autumn-colored harvest decorations for the event, since they're already up throughout the facility for the season. You can add a bit of pop to your decorations on the day of your Oktoberfest by adding in a few blue and white elements, like using white and blue balloons or blue crepe paper. Another option is to use an Oktoberfest kit that has everything in it, and then host an Oktoberfest Decorating Party so your residents can help you decorate for the big event.
It's all about the beer! Oktoberfest is a celebration that's centered all around beer, so you can plan a few beer-related activities for your residents – even if they're non-drinkers. For instance, you can serve nonalcoholic beer for a Beer Tasting, in which residents choose the nonalcoholic beer that they like best. You can also have fun with root beer, by offering a Root Beer Float Social or hosting a Root Beer Float Bar, in which residents get to add other ice cream toppings to their floats besides vanilla ice cream and root beer.
Don't forget about the pretzels. So what goes great with beer? Pretzels. Be sure to have pretzels on hand to serve to residents for them to enjoy with their beer. If you purchase store-bought pretzels, host a Pretzel Necklace Party in which residents string pretzels on twine to make necklaces that go around their necks so that they can nibble on pretzels throughout the day. However, if you want your residents to experience homemade pretzels, then set up a Pretzel Shop in your Activity Room in which you use a pretzel maker to deliver warm pretzels to residents. In addition for your homemade pretzel activity, be sure to provide a variety of condiments to see what people like to put on their pretzels – mustard, melted cheese, melted chocolate, or even peanut butter.
Where's the music? It's not an Oktoberfest party without lots of music and dancing. So find a few German folk songs to play, and invite residents to dance. If you're unsure about how to do the traditional German dances, don't worry – just put on the Chicken Dance song and do what the person besides you is doing.
About Not Just Bingo: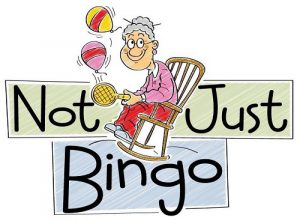 Not Just Bingo is an online resource of fun, senior activity ideas for activity professionals of nursing homes and assisted living facilities. They have been providing fun activity ideas online since 2009, and continue to assist activity professionals across the country by creating meaningful and engaging activity ideas for their residents that go "beyond bingo." Not Just Bingo feels privileged to help activity directors better the living experiences of their residents while demonstrating that a senior's quality of life can actually improve when they move to a nursing facility!
Want even more ideas each month? Sign up for the Notjustbingo Membership to receive specialized activity ideas to keep your residents and staff engaged, active, and having fun!