Pineapples are such a hot trend right now! It's not only a trendy craft theme to bring to your program, it's also a great way to inspire courage, kindness, and teach kids to be proud of themselves.
Share the quote "Be A Pineapple: Stand tall, wear a crown, and be sweet inside." with your group as you enjoy a variety of fun and simple pineapple crafts that are great for all ages! Here are 12 of our favorites.
Craft Projects
Ceramic Bisque Pineapples
These Color-Me™ Ceramic Bisque Pineapples are the perfect craft and decoration for your pineapple theme! We recommend using acrylic paints, markers and more to decorate these bisque pineapples. The pack comes with 12 pineapples with a blank white canvas and raised features.
Mini Velvet Art Posters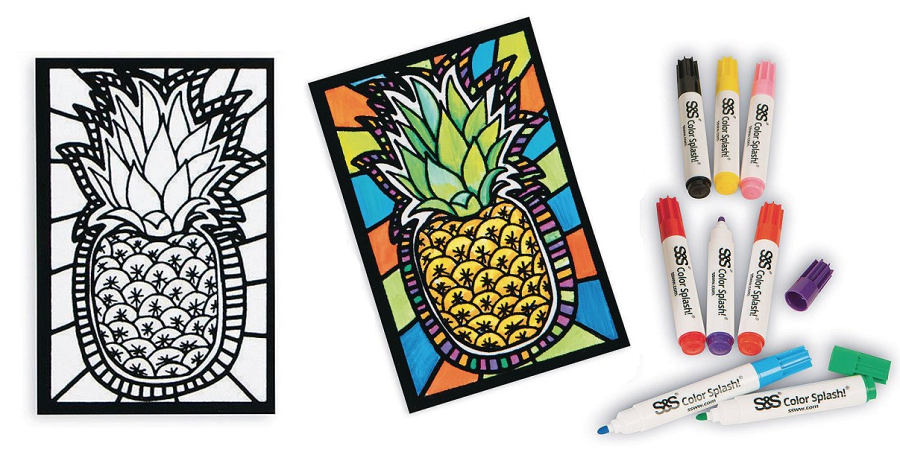 These mini velvet art posters are fast and fun projects with guaranteed great results! This huge variety pack includes 10 each of 10 exclusive designs with something sure to appeal to everyone, including this pineapple print!
Pixel Dotz Pineapple Craft Kit 

With this Pixel Dotz Pineapple Craft Kit, use the adhesive plastic sheet as a guide as you place each colored dot onto the corresponding color. The positioner tool allows you to place the dots with precision. The pineapple picture comes to life with the dots making it look almost 3D!
Ceramic Bisque Coaster

You can decorate these Color-Me™ Ceramic Bisque Coasters in so many ways! Use acrylic paints, permanent, water-based markers or mosaic tile a design! Each coaster measures approximately 4" x 4".
Ceramic Bisque Flowerpot Buddy

Create a fun flowerpot buddy that looks just like a pineapple! Use markers and more to decorate the flowerpot, then add a green plant that looks like the top of the pineapple! Use yellow markers and brown for details to decorate like a pineapple.
DIY Pineapple Crafts
Pony Beads
These cute pineapples were made by our very own Crafty Kate! If you enjoy making beaded buddies with pone beads and cording, you'll love this project. For a reference, you can view this post and see how the cord is fed through the beads.
Materials:
Fuse Beads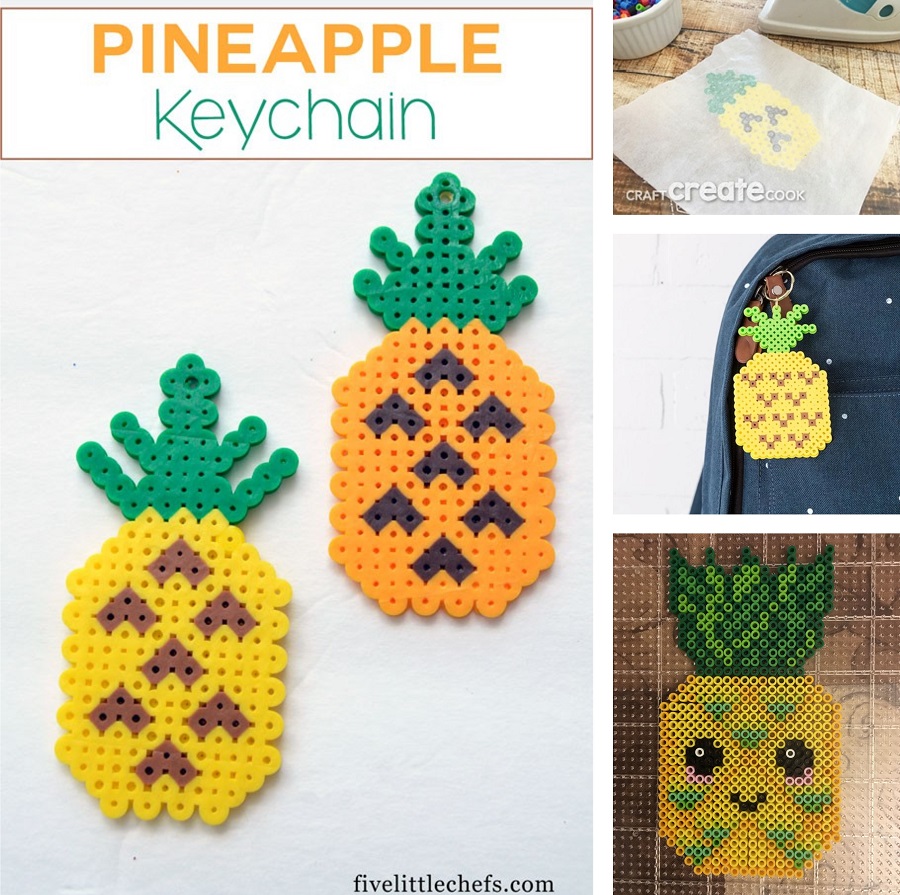 Use a fuse bead tempate to create a pineapple keychain or magnet! You can use a square pegboards and choose from several fun designs.
Materials:
Paper Pineapple
All you need is construction paper and adhesive glitter foam sticker squares to make this adorable yet fancy paper pineapple! Use yellow paper to cut out the bottom shape of the pineapple, and green paper to cut the top. You may want to trace it beforehand and have a photo for reference. Tape the green paper to the back of the yellow paper. Then, add the foam squares. They stick right on! Cut the edges as needed.
Materials:
Terra Cotta Pineapple
This is such a simple yet fun way to create a pineapple using a pinecone and mini terra cotta pot! Paint the pinecone green and the pot yellowish gold. Draw or paint some edges to give it some defined features that reflect the outer texture of a pineapple.
Materials:
Pineapple Planter
We love this idea from the Cut Out And Keep blog to make a pineapple planter! Just paint the pot with yellow paint (you can keep the rim green if you'd like or make it yellow too) and let it dry. Then add some "V" shapes with a permanent marker.
Materials
Pineapple Eggs
These cute little eggs from the Hello Splendid blog are so easy to make with just a few materials! Perfect for a pineapple theme, Spring theme, and even Easter. You can even stuff the eggs with fun sweet treats or novetly items.
Materials
Pineapple Mason Jar
Check out our blog post on how to create this adorable Pineapple Mason Jar craft!!