You might be thinking about adding some pet crafts, activities, or games to your activity program as part of a Pet or Animal Theme. Kids can work together on several of these activities, like putting a puzzle together, playing a memory match game, and coloring their own cat or dog craft.
Use this theme as an opportunity to teach Social Emotional Learning (SEL) by exploring emotions through pets. Your group can also get to know each other more by sharing details about their favorite furry friends.
Below are some holidays and observances related to pets!
National Pet Day – April 11th
National Pet Month – May
National Dog Day – August 26th
National Cat Day – October 29th
Choose between a variety of pet puzzles! Our favorite is the 12-puzzle multi-pack featuring adorable kittens and puppies. The pack includes a fold-out giant panoramic poster of all 12 images, each puzzle has a custom pattern on the back to make it easy to keep puzzles organized. There four each of puzzles ranging from 100-500 pieces. They are even environmentally friendly – the chipboard is made of recycled material!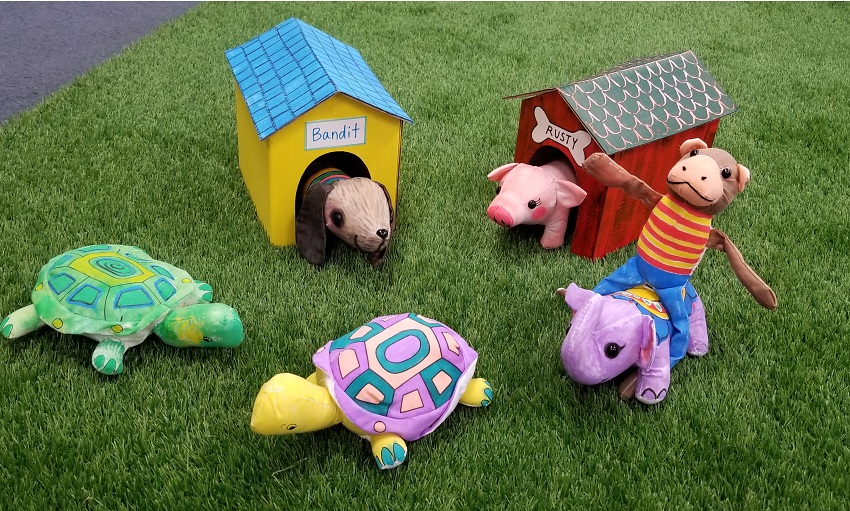 We love these cardboard doghouses to use with our Color Me animals! This makes such a fun craft activity and is also perfect for dramatic play. View our blog tutorial with several creative ideas on how to use these crafts.
Latch hook projects help develop eye-hand coordination and fine motor control. Choose between a horse, cat and dog, or labrador puppy. Includes poly/cotton canvas, precut acrylic rug yarn with easy to follow color chart and illustrated instructions.
Kids can choose between a dog or a cat doorknob to hang on their bedroom door, or in their cabin at summer camp! Each pack comes with 8 each of the cat, dog, and also an elephant. Use acrylic paint, glass stain, stain or markers to decorate! Sand any rough edges first. If you sand the face, do this lightly so you don't remove any of the
printed lines. You may also want to apply a coat of clear finish, like Mod Podge.
It's a furry twist on the original Monopoly game! This is the perfect game for cat lovers. Buy your favorite cats, then collect Litter Boxes and trade them in for Fish Bones. Try not to get fleas, start chasing mice, or have to clean the litter boxes! It's all furry fun until you fall in water, then you're mad as a wet cat because you're out of the game for 3 turns! The board is made up of the world's most popular and exotic cats. For 2 to 6 players, ages 8 and up.
Everyone loves puppies and kittens! Hearts will melt with this traditional memory match game that features 16 different (and absolutely adorable) real-life images to spark memories and pull at heartstrings! Sure to engage everyone and ideal for matching and sorting, and is easily adaptable to many levels of dementia. Real-life images are mounted onto the 32 big, 3" soft foam tiles. And they're 3/8" thick making them extra easy to grasp and handle.
Our Color-Me™ ceramic puppy banks are sure to be a big hit with kids that are dog lovers! This is also our favorite of all the pet crafts. Decorate their puppy with paint or markers, then store coins inside. These come in a pack of 12.
Fish are important pets too! Kids can color their own banks to reflect their favorite fish pet. This is a great educational craft kit that can be used in the classroom too!
Sand art is a great craft for all ages. This pack of 12 comes with 3 each of the designs you see in the picture. Remove stickers one at a time, and pour colored sand over each section! The pre-sticky paper makes it easy for kids and seniors to stay in the lines.
Our new Color-Me™ Rabbits are super cute and fun to color. Use fabric markers and add any other craft embelishments you'd like. The eyes, nose, and mouth are stitched with black thread. The pack comes with 12 projects.
Are you a dog lover? Add a tie dye bandana and you've got the most stylish dog ever! Personalize it with a paw print, their name, or other fun designs. View our step by step tutorial on how to make these using bandanas, glue, and tie dye!
More Ideas for National Pet Day!