With the Dog Days of Summer here (July 3 – August 11), you may find that it is just too hot to take your senior residents on outings. If that is the case, here are a few ideas on indoor replacements for those outing activities.
Museum Outings – Instead of taking residents to a museum or an aquarium, bring the museum or aquarium to them. For example, borrow an art history DVD from your local library, invite residents to get a glimpse of beautiful fish right on your television, or schedule a few armchair travels for residents to view important world landmarks.
Scenic Rides – Rather than taking residents on scenic rides in the hot sun, bring the beautiful outdoors to them with nature DVDs.
Restaurant Outings – Instead of taking residents on your weekly trips to the corner restaurant, coordinate with Dining Services to serve themed meals in your facility, like a Mexican fiesta with tacos, a Chinese Take-Out social featuring egg rolls, or a simple American barbecue with hot dogs and hamburgers.
Trips to the Library – Cancel your library trips and instead organize for your residents to receive books from your library. If your library does not provide that service, simply stop by to pick up a variety of books to temporarily stock your facility's library.
Visiting Family Members – In place of senior residents going to visit their family members, host more family events at your facility. Create fun themed parties like a Karaoke party or an ice cream social.
Trips to the Local Swimming Pool – While the pool may be the place to go this
summer, it can also be crowded. Instead, create your own pool deck in your backyard as the sun sets by filling a kiddie pool with water and inviting residents to sit around it to place their feet in.
Going to the Park – Rather than playing outdoor games at the local park, try to implement a few fun indoor games in your Activity Room. Use foam discs for an indoor Frisbee game or use inflated balloons and rackets for an indoor tennis game.
Visiting Children – Instead of scheduling intergenerational activities outside of your facility, host them in-house. Invite the children to join in with residents for a fun summer bake-off, to make fun crafts, or to conduct interesting science experiments. In addition, when residents miss the sight of their grandkids' smiling faces, invite residents to watch a DVD featuring adorable babies.
About Not Just Bingo: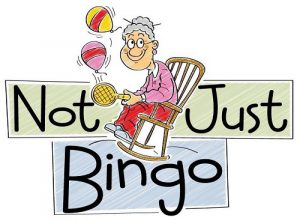 Not Just Bingo is an online resource of fun, senior activity ideas for activity professionals of nursing homes and assisted living facilities. They have been providing fun activity ideas online since 2009, and continue to assist activity professionals across the country by creating meaningful and engaging activity ideas for their residents that go "beyond bingo." Not Just Bingo feels privileged to help activity directors better the living experiences of their residents while demonstrating that a senior's quality of life can actually improve when they move to a nursing facility!
Want even more ideas each month? Visit www.notjustbingo.com for how-to activity ideas, monthly newsletters, and daily holiday ideas. You can also sign up for the Notjustbingo Membership to receive specialized activity ideas to keep your residents and staff engaged, active, and having fun!
.