Dramatic play is a great way to get kids to use their imagination and creativity. It also promotes learning and encourages self expression. There are several fun ways that you can incorportate imaginative play into your program. This can also be combined with active play, where kids get their heart rate up during fun activities.
We all know kids love animals and pets. Our Color-Me™ Doghouses are perfect for dramatic play because kids can build them and color and decorate them with their favorite designs. Then, our Color-Me Fabric Animals can be used to play in the doghouse and kids can set up a play area around it. See the materials list below for a variety of options – kids can pick their favorite animals and use their imagination! Who says only dogs can live in a doghouse? How about dinos and pigs and bears!
Materials:
Optional:
Instructions
Each doghouse has 3 pieces made of white corrugated cardboard, which are pre-scored and have tabs for easy assembly. Use tape or glue dots to keep the pieces firmly together. The houses come in a pack of 12 so it's great for a group, and is also easy to distribute if you are socially distancing.
We recommend decorating the pieces before assembly so you have a flat surface to work with. Use permanent markers to color the sides, front, and roof of the doghouse. You can also use paint for this project if you'd prefer.
Next, choose what animals you would like in your doghouse! Color the fabric animals with either fabric paint or fabric markers. You can also get creative and add sequins, glitter, and more.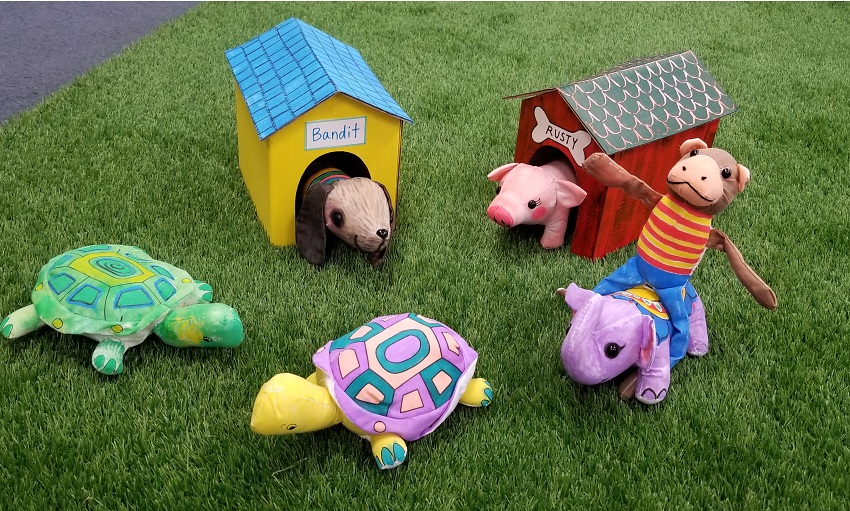 Dramatic Play
We love this activity because there are so many fun things kids can do once they build their doghouse and decorate their animals. They can create a story through these characters, make friends, express their feelings, practice their animal noises, and even make the animals exercise by playing with mini soccer balls. They can even help the environment by picking up trash in the area. It's great that there are so many fun options to add to the activity to keep kids entertained and building their learning skills.
Kids can also raise their heartrate by playing a game of Musical Animals. They can run around the doghouses and as soon as the music stops, grab an animal and sit down. Then they can all raise their animals up and share one fact about the animal they have. You can even supplement the activity with some animal fact books so kids can learn some fun facts they never knew!