Combine DIY and dinosaurs for the perfect kids craft activity! With Jurassic movies and dinosaur themes being so popular, we wanted to share 10 of our favorite dinosaur crafts of all time.
Dinosaur Balloons
Create your favorite dinosaurs using balloons and construction paper! These are perfect for a dinosaur themed birthday party or any occasion. First, blow up several balloons and different colors. Then cut out shapes for the head, legs, and tail. You can pre-draw the shapes, or find templates online to trace. Then use clear tape to attach the construction paper to the balloon. Make sure the part of the balloon you tie is the head of the dinosaur. Add eyes with paper or use wiggly eyes! You can make a T-rex, Stegosaurus, Pterodactyl, Brontosaurus, and Triceratops as you see in the photos below. We found this creative idea from Pinterest.
Paper Bag Dinosaurs
We had so much fun making these dinosaurs using colorful kraft bags and sticky back foam sheets! First, choose the dinos you want to make, and which colors. We chose a T-rex and Triceratops. Use small paper bags as the base for your craft. Then, cut out shapes for the face, legs, and arms using sticky foam. Use construction paper to make the teeth and horn shapes and stick them to the foam. Now you can stick them to the paper bag. Cut out eyes using construction paper, then glue them to the bag. Grab a black permanent marker and draw the nostrils and nails on the feet and arms. Add spots if you'd like!
Craft Stick Dinosaurs
For this dinosaur craft from the Glued to My Crafts Blog, you will use jumbo craft sticks and construction paper to create a cute and unique dino look! First, make a triangle with 3 craft sticks as the body. You can even take this opportunity to teach your little one about shapes! Use paint or markers to color the sticks. Then add construction paper shapes for the head, legs, spikes, and tail of the dinosaur.
We love this triceratops from I Heart Arts N Crafts, also made with craft sticks and construction paper, plus wiggly eyes for added character!
Paper Plate Dinosaurs
Paper crafts are super popular and there are few materials needed! Create a Brontosaurus inspired dinosaur and a Stegosaurus using paper plates, paint, and paper rolls. The examples belw are from the Good To Know blog. Simply fold a paper plate in half, and cut it for the body of the dinosaur. Then cut shapes for the head, tail, and spikes. Use a paper roll to create the legs so it can stand up! TIP: Make sure you paint all of the shapes before gluing.
Toilet Paper Roll Dinosaur
We found this Pteradactyl craft idea on Pinterest using a paper roll and colorful construction paper! First, paint your paper roll with yellow acrylic paint. Then, cut out shapes using yellow construction paper for the head and tail. To hold the head and the tail in place, cut a slit in the paper roll, then insert the construction paper into the slit. Add some glue just in case. Glue the wings to the roll, then string a piece of jute through the paper roll and hang it up on display!
Tissue Paper Dinosaur
Bring a dinosaur to life with this tissue paper craft from Mom Unleashed! Using a recycled piece of cardboard, decide what shape of a dinosaur you want to create. Draw the shape first, or you can use a photo from online as a guide, then cut the shape out. Tear off small pieces of tissue paper in the color you choose, and roll them up between your hands to create small pieces. Glue them to the cardboad, making sure to fill all of the blank space. Kids can then use the finished dinosaur for dramatic play!
These unfinished wooden dinosaur puzzles can be used as a fun and interactive craft activity and also for sensory play! One customer shared her activity idea: "We buried these in an 'archeological dig' for the children to discovery by digging through the dirt. Everyone enjoyed finding the dinosaurs. Great learning tool." Take each of the puzzle pieces and bury them in kinetic sand or beads. Kids can find the different pieces and put them together. You can also add an educational aspect and teach them about archeology while they are finding the correct pieces for each dinosaur. And don't forget to have kids paint the dinosaurs with sheer gel paint.
Build your own dinosaur buddy with pre-cut cardboard pieces, then decorate with markers! The craft kit also includes wiggly eyes, glue, and instructions on how to put it together. We recommend using acrylic paint or washable markers to color and decorate the dinosaur. One of our customers shared, "The students loved this craft! All of our dinosaurs looked so different. It was great to see all age students being so creative!"

Dinosaur Paper Craft
This activity combines arts and crafts with literacy and letter recognition! Kids can have fun learning the letter "D" in the alphabet while making a dinosaur using construction paper. Learn more about this activity here.
Coloring Dinosaurs
This Color-Me™ dinosaur pack comes with 12 white fabric brontosaurus dinosaurs that can be colored with markers or paint. Kids add spots, eyelashes, and even rhinestones. These can then be used for dramatic play! Get some fun ideas here.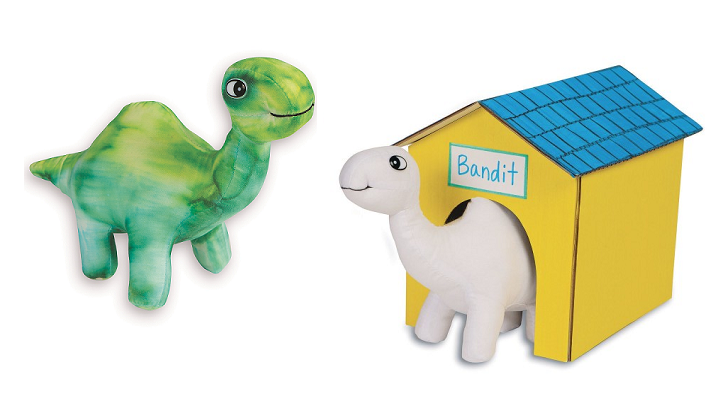 View our entire dinosaur themed selection here!