At S&S Worldwide, we love to highlight stories of organizations we sponsor to share their mission and help inspire others. This story from an organization called Jewish Family Services has truly inspired us and we hope to help spread their message of kindness and positivity.
To recognize Mental Health Awareness Month in May, Jewish Family Services and Tara's Closet hosted an event called "Embracing Possibility for Mental Health Awareness: A Conversation with Patrick J. Kennedy" at Kingswood Oxford School in West Hartford, CT. This was a community-wide conversation led by a panel of national experts and local members of the community who have been impacted by mental illness, to raise awareness and discuss the many misconceptions surrounding it.
At this event, they launched their new community-wide initiative called JFS Rocks. Multiple organizations participated in this program, from preschools to senior living centers. The goal of JFS rocks is to incorporate art therapy and promote well-being through painting rocks, inspired by the popular "Kindness Rocks" program. This activity is geared towards bringing individuals and communities together in a positive way. S&S proudly donated our River Rocks to support this cause. They were then made into kits and delivered to the members of the community who participated.
History Behind the Rocks
Stones or rocks have a special character in Judaism: an altar, Western Wall and The Ten Commandments. Jews even put stones or rocks on graves. Stones symbolize solidarity. The Ten Commandments may be the most well-known part of the Torah. They form the foundation of Jewish ethics, behavior and responsibility and include instructions on how to live a better life, both mentally and physically. These values were written on stone (rock) tablets.
JFS Rocks strives to spread positivity and pay it forward. They will help promote and further these Jewish values: honor and respect, kindness, generosity, character and community.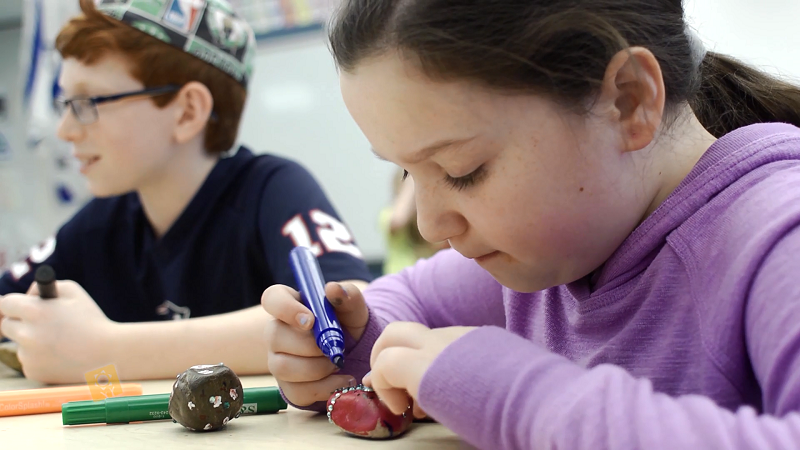 Art Therapy – Painting Rocks
Art therapy is a form of expressive therapy that uses the creative process of making art to improve a person's (all ages and stages of life) physical, mental, and emotional well-being. It can help individuals of all ages express oneself, explore emotions and instill hope and empowerment.
"The creative process is very theraputic. Through paint, through coloring, through the rocks, we've been able to work on self esteem, anxiety, trust, resilience." – Shayna, Child and Adolescent Clinician, Jewish Family Services
These rocks are a way for kids and adults to express themselves, their emotions, and spark meaningful conversation. Art therapy acts as an ice breaker, and can help someone overcome trauma and difficult situations. Mental illness can affect anyone – children, teenagers, adults, and elderly. By facilitating programs like JFS Rocks and activities that promote togetherness and allow self expression in a positive way, we can truly help individuals and our community.
JFS put together a powerful video that reflects the success of the JFS Rocks program. View the video here or below.
Success Stories from the JFS Rocks Program
Here are some of our favorite quotes from those who participated in the JFS Rocks program:
"It sparked meaningful conversation, and this feeling of just sort of relaxation in the room, and yet joy" – Carolyn Gitlin, Board Member: Womens Philanthropy, Jewish Federation of Greater Hartford
"Very concrete activities – things with very clear outcomes – are things that resonate more with our folks. Their ability to grasp the abstract and the reasons behind those may not be as apparent, but seeing a finished product that they helped create, I think will have a great deal of meaning for them." – Denis Geary, Executive Director, Jewish Community Association for Community Living
"They get the emotional sense of what is happening in their environment and they do reflect that back. Any opportunity that we can give our students and our faculty to do acts of goodness to participate in putting a little bit of good out in the world" – Andrea Kasper, Head of School, Solomor Schechter Day School
"All of these really beautiful images on these rocks, you realize that this is rocks bringing a community together."
We are so proud to support the Jewish Family Services and their dedication to our community.
About Jewish Family Services
Jewish Family Services of Greater Hartford is non-profit social service organization which provides counseling, education, and community support to help people of all religions advance along the path toward emotional well-being, self-reliance, more positive relationships, and a renewed sense of possibility. For information on JFS programs/services and volunteer/giving opportunities, visit www.jfshartford.org.