Even though your activity staff leaves for the day, your residents can still have fun in the evenings at your senior living facility. Here are six tips to help your residents enjoy their evenings.
1. Add Documentary or Movie Nights
Schedule a weekly picture night in which you showcase a movie or documentary of interest. Advertise that popcorn and drinks will be served to get even more residents interested in stopping by. If your residents like a particular actor or genre, then use that as a theme, like a Cary Grant Night or a Western Movie Night. In addition, if you have an artistic volunteer, ask her to create movie-poster flyers that can be passed out at dinner to remind residents of the fun movie or documentary that will be premiered after the meal.
2. Plan Evening Table Games
During the day, play a few table games with residents to see which ones they like the best. Also, use this time to help residents learn how to play the games independently, without needing assistance from staff. Then, schedule those games for the evenings. In fact, consider tailoring each evening towards a different table game, like Dominos Tuesdays or Scrabble Wednesdays.
3. Recruit Evening Volunteers to Call Bingo
If you want to increase the participation in your evening activities in a hurry, consider adding a special bingo game one night each week. Instead of having staff members call the game, recruit evening volunteers or even residents to call the bingo games. To recruit residents to be the bingo callers, be sure to make it worth their while since they will not be able to win any prizes while they are calling the game. For instance, you may want to provide your bingo callers with a special monthly prize for volunteering.
4. Use CDS and DVDs for Your Evening Activities
If you do not have the activity staff or even the care staff to assist with carrying out evening activities, then use CDs or DVDs instead. For instance, use a CD for a weekly sing along activity, or use a DVD for a weekly armchair travel activity or a reminiscing activity.
5. Schedule Evening Entertainers
Schedule a few of your entertainers to perform during the evenings after dinner. This works well for those entertainers who work full-time during the day. In addition, consider asking your local college or university for a list of music student volunteers who can stop by to play for your residents in the evenings.
6. Organize Music and Specialty Drink Nights
Ask the evening staff to play a CD featuring music from one of your residents' favorite singers and serve specialty nonalcoholic drinks. For example, host a Dean Martin Martini Night in which residents listen to Dean Martin music while sipping on nonalcoholic martinis, or host a Glenn Miller Pina Colada Night for residents to enjoy nonalcoholic pina coladas while listening to Glenn Miller and his orchestra. Just be sure to set everything up before you leave for the day – the CD and a pitcher of the nonalcoholic drink.
About Not Just Bingo: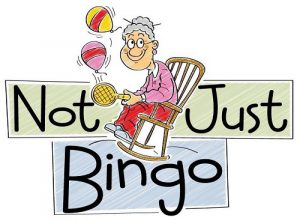 Not Just Bingo is an online resource of fun, senior activity ideas for activity professionals of nursing homes and assisted living facilities. They have been providing fun activity ideas online since 2009, and continue to assist activity professionals across the country by creating meaningful and engaging activity ideas for their residents that go "beyond bingo." Not Just Bingo feels privileged to help activity directors better the living experiences of their residents while demonstrating that a senior's quality of life can actually improve when they move to a nursing facility!
Want even more ideas each month? Visit www.notjustbingo.com for how-to activity ideas, monthly newsletters, and daily holiday ideas. You can also sign up for the Notjustbingo Membership to receive specialized activity ideas to keep your residents and staff engaged, active, and having fun!