Plan a Dinosaur theme in your classroom or program to keep kids engaged in your activities! Students can improve skills in creativity, fine motor skills, and counting with these dino crafts and games. These can be used for lesson plans or as brain breaks. Here's a list of themed educational and crafty ideas we've compiled that are totally DINO-MITE!
This is the perfect theme to plan in May to celebrate #DinosaurDay on May 21st!
Dinosaur Puzzles
How adorable are these Wooden Dinosaur Puzzles? Each pack comes with 12 unfinished dinosaurs puzzles to decorate with paint. There are 3 each of 4 dinosaurs – Brontosaurus, Crocodilian, Triceratops, and Stegosaurus. One of our customers came up with the idea to bury them in an "archeological dig" for the children to discover by digging through the dirt. A great learning tool!
This Melissa & Doug® Dinosaurs Chunky Puzzle comes with 7 extra thick wooden dinosaur puzzle pieces that are easy to grasp for small hands, and also a full color-matching picture underneath. The dinosaur pieces also stand upright for pretend play. This puzzle encourages eye-hand coordination, fine motor and creative expression skills.
Learning With Dinosaurs
Our dinosaur bone sets are perfect for budding paleontologists! Kids can bury the 16 bones in sand, soil, or even water. This activity is great for bringing out children's instincts to explore, investigate, sort, collect, and measure. Use them alongside the Match & Measure Activity Cards to encourage children to match, count, compare order, and measure the bones they discover. The cards are tough enough to use in the outdoor area (including water play) as children discover the buried bones. Each set includes 16 colorful plastic cards.
This new Little Kids First Big Book of Dinosaurs by National Geographic brings the prehistoric world to life! Kids from age 4 to 8 years-old who LOVE dinos can explore dinosaurs small, big, giant, and gigantic, with stunning illustrations, fun facts and information, and interactivities included in every chapter.
Dinosaurs to Color
Our new super cute Color-Me™ dinosaurs can be colored with markers or paint. Kids can experiment with fun colors and designs. Add spots, eyelashes, and even rhinestones. The pack comes with 12 brontosaurus dinosaurs.
Kids can have fun with these flexible wooden dinosaurs that have a realistic, bendable body. The craft kit includes wooden parts, glue, paints, brushes and instructions. The pack comes with 12 T-Rex dinosaurs.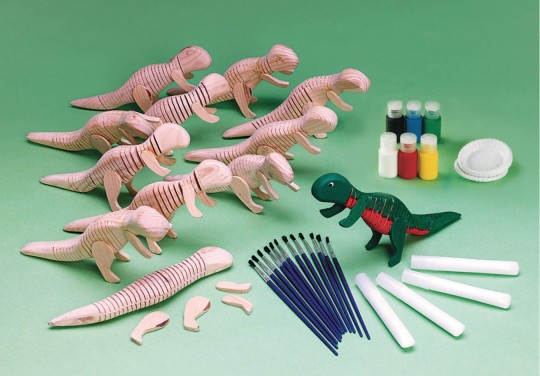 A dino-mite craft! This Dino Wind Chimes Craft Kit comes with 3 each of 4 different dinosaurs, approx. 4-1/4″ x 3-1/4″. Includes chimes, silver cord and burlap cord. Each project is individually bagged.
Assemble Your Own Dinosaurs
This 12 pack of unfinished Punch and Slot Wood Dinosaurs comes with 3 each of 4 designs – a Pteranodon, Mammoth, Triceratops, and T-Rex. This is a great educational activity for older groups of kids.
Children love dinosaurs! Enhance their study of prehistoric life and expand their imagination with this set of prehistoric pets. Included are 2 each of 6 different dinosaurs preprinted on heavy card board and ready to decorate. Dinosaurs punch out and come with stands for displaying the finished project. Decorate with markers and other craft trims.
For younger kids, our Buddy the Dinosaur Craft Kit comes with cardboard punch out pieces, wiggly eyes, glue, and easy instructions. Kids will love personalizing their new prehistoric pals!
More Craft Fun With Dinosaurs
These Sand Art Dinosaurs are fun and easy to make! Just peel precut shapes from self-adhesive backing and apply fine sand for beautiful designs.
Our fun-to-feel Super Foam and bright Color Splash!® brands have joined together to bring you new, precut Adhesive Foam Dinosaur Shapes! The 1/2-lb pack with about 600 pieces includes a convenient, reusable storage bucket.
Dinosaur Themed Active Play
Get your PE or recreational group together for this Dinosaur Egg Transfer activity. Or you can use this as a brain break in the classroom, auditorium, or cafeteria. Students can act like a team of paleontologists whose mission is to move a newly uncovered dino egg with a fun transporting device.
Use this 37″ tall Inflatable T-Rex for a dodgeball game variation. Save your team from T-Rex and win the game by knocking him out of his "cage" make a square with floor tape). Players can use heavier rubber playground balls to try to move the opponents out of his taped-off cage area while simultaneously using softer Gator Skin® dodgeballs to eliminate players on the other side.
Materials:
You can also use the inflatable dinosaur to let your groups imagination run wild! Plan a Dinosaur Week where students can each take turns tossing rings over the dino's head. Also makes a great ball target and adds spice to any obstacle course.