Plan a Dinosaur theme in your classroom or program to keep kids engaged in your activities! Students can improve skills in creativity, fine motor skills, and counting with these dino crafts and games. These can be used for lesson plans or as brain breaks. Here's a list of themed educational and crafty ideas we've compiled that are totally DINO-MITE!
This is the perfect theme to plan in June to celebrate #DinosaurDay on June 1st!
This NEW game is one of our favorites for the summer! Set up the 6 large dinosaur bowling pins with (weighted bottoms) and roll, kick or throw the multi-colored, inflatable ball to see how many you can knock down! Kids of all ages will be improving hand-eye coordination while engaging in good-natured competition. Don't stop at bowling: there are so many ways to play with this set! Get out the stopwatch to see who can knock down all 6 dinos in the shortest amount of time; knock down opposing colors; or just use these Jurassic buddies to accompany imaginative adventures and pretend play.
Dinosaur Puzzles
How adorable are these Wooden Dinosaur Puzzles? Each pack comes with 12 unfinished dinosaurs puzzles to decorate with paint. There are 3 each of 4 dinosaurs – Brontosaurus, Crocodilian, Triceratops, and Stegosaurus. One of our customers came up with the idea to bury them in an "archeological dig" for the children to discover by digging through the dirt. A great learning tool!
These unfinished wooden dinosaur puzzles can be used as a fun and interactive craft activity and also for sensory play!
One customer shared her activity idea: "We buried these in an 'archeological dig' for the children to discovery by digging through the dirt. Everyone enjoyed finding the dinosaurs. Great learning tool." Take each of the puzzle pieces and bury them in kinetic sand or beads. Kids can find the different pieces and put them together. You can also add an educational aspect and teach them about archeology while they are finding the correct pieces for each dinosaur. And don't forget to have kids paint the dinosaurs with sheer gel paint.
This Melissa & Doug® Land of Dinosaurs Floor Puzzle takes you on a trip back to prehistoric times! Kids will love the colorful images and dramatic panoramas. This puzzle has 48 pieces and the finished project measures 18″ x 50″.
Learning With Dinosaurs
Our dinosaur bone set is perfect for budding paleontologists! Kids can bury the 16 bones in sand, soil, or even water. This activity is great for bringing out children's instincts to explore, investigate, sort, collect, and measure. Use them alongside the match & measure activity cards to encourage children to match, count, compare order, and measure the bones they discover. The cards are tough enough to use in the outdoor area (including water play) as children discover the buried bones. Each set includes 16 colorful plastic cards.
Dinosaurs to Color
This Color-Me™ dinosaur pack comes with 12 white fabric brontosaurus dinosaurs that can be colored with markers or paint. Kids can add spots, eyelashes, and even rhinestones. These can then be used for dramatic play! Get some fun ideas here.
Kids can have fun with these flexible wooden dinosaurs that have a realistic, bendable body. The craft kit includes wooden parts, glue, paints, brushes and instructions. The pack comes with 12 T-Rex dinosaurs.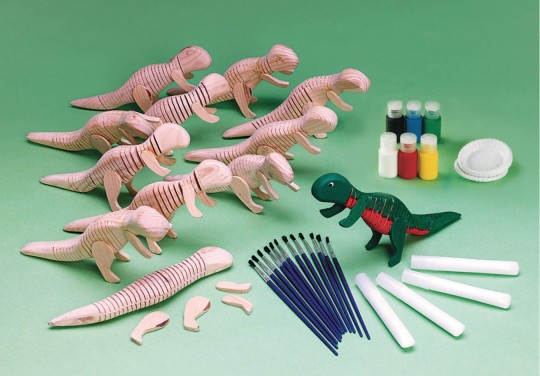 A dino-mite craft! This Dino Wind Chimes Craft Kit comes with 3 each of 4 different dinosaurs, approx. 4-1/4″ x 3-1/4″. Includes chimes, silver cord and burlap cord. Each project is individually bagged.
Assemble Your Own Dinosaurs
This 12 pack of unfinished Punch and Slot Wood Dinosaurs comes with 3 each of 4 designs – a Pteranodon, Mammoth, Triceratops, and T-Rex. This is a great educational activity for older groups of kids.
For younger kids, our Buddy the Dinosaur Craft Kit comes with cardboard punch out pieces, wiggly eyes, glue, and easy instructions. Kids will love personalizing their new prehistoric pals! Build your own dinosaur buddy with pre-cut cardboard pieces, then decorate with markers! The craft kit also includes wiggly eyes, glue, and instructions on how to put it together.
We recommend using acrylic paint or washable markers to color and decorate the dinosaur. One of our customers shared, "The students loved this craft! All of our dinosaurs looked so different. It was great to see all age students being so creative!"

More Craft Fun With Dinosaurs
These Sand Art Dinosaurs are fun and easy to make! Just peel precut shapes from self-adhesive backing and apply fine sand for beautiful designs.
Our fun-to-feel Super Foam and bright Color Splash!® brands have joined together to bring you new, precut Adhesive Foam Dinosaur Shapes! The 1/2-lb pack with about 600 pieces includes a convenient, reusable storage bucket.
Dinosaur Themed Active Play
Get your PE or recreational group together for this Dinosaur Egg Transfer activity. Or you can use this as a brain break in the classroom, auditorium, or cafeteria. Students can act like a team of paleontologists whose mission is to move a newly uncovered dino egg with a fun transporting device.