Autumn is right around the corner so it's nearly time for crisp air festivities, beautiful foliage, fun social gatherings & of course football season! With football season comes tailgating, delicious food, team spirit and silly social activities! That's why every year we recognize the first Saturday in September as National Tailgating Day! Gatherings often take place at the tailgate of a pickup truck or the trunk of a car, but neither are required, so think outside the box as you plan to transform your facility this fall. Here are some fresh game ideas from our friends at Not Just Bingo to consider while planning a celebration your residents will love!
1. Backyard Kickball
Space out residents on your facility's backyard porch to play a fun version of backyard kickball using a large kickball for residents to kick back and forth. As an alternative, seat residents in a large circle and use an inflatable beach ball for residents to try to kick outside of the circle.
2. Bulzi Bucket
While you may have never heard of Bulzi Bucket, it's quite similar to the cornhole game where residents try to toss the game bags into the opposite target. The only difference is that teammates are allowed to use parts of their body to help the bag get into the target.
3. Disc It Game
Show residents how to have fun while improving their tossing skills by playing the Disc It game. To play, simply toss the disc to try to hit the tower so that you knock the ball off of the tower. Set this game up in the backyard for a fun tailgate party.
4. Ping Pong
Use a portable ping pong game to play a fun game of table tennis in your activity room or outdoor space. Simply place the net on a long table, and have residents stand or sit on either end to hit a ping pong ball back and forth using the paddles. Consider hosting a ping pong tournament so that the winners of each of the games can compete to see who is the Ping Pong Champion in your facility.
5. Inflatable Bowling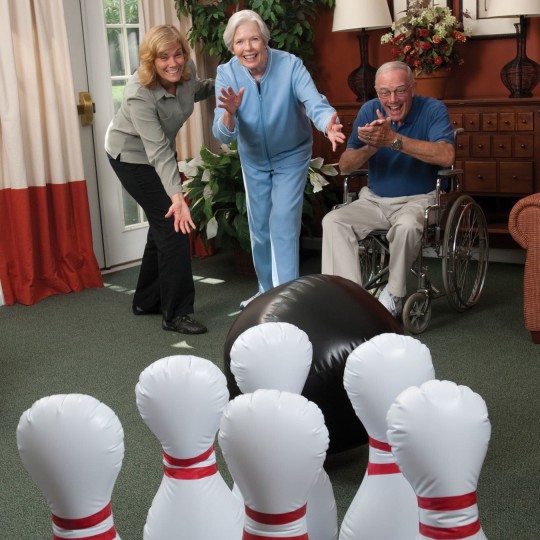 Encourage residents to play a unique game of bowling using an inflatable bowling game. Simply inflate the jumbo bowling set and have residents see how many pins they can knock down with the oversized ball. This game makes it easy for everyone to be a winner.
6. Dice Roll
Use inflatable dice to play a dice-throwing game with residents. To play, allow each resident three turns to see whether they can roll doubles. Once residents roll doubles, give them that score (i.e., if they roll double sixes, then they have a total of 12 points). Keep going around the room to see who can accumulate the most points by the end of the activity.
---
About Not Just Bingo: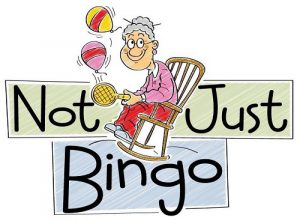 Not Just Bingo is an online resource of fun, senior activity ideas for activity professionals of nursing homes and assisted living facilities. They have been providing fun activity ideas online since 2009, and continue to assist activity professionals across the country by creating meaningful and engaging activity ideas for their residents that go "beyond bingo." Not Just Bingo feels privileged to help activity directors better the living experiences of their residents while demonstrating that a senior's quality of life can actually improve when they move to a nursing facility!
Want even more ideas each month? Sign up for the Notjustbingo Membership to receive specialized activity ideas to keep your residents and staff engaged, active, and having fun!