If you're planning to host a summer carnival for your senior residents this year at your assisted living facility, be sure to include these 5 elements to make the event fun and memorable!
Carnival Games
Make sure to include fun games for your residents to play!
Tossing Games
Have residents toss rubber rings over objects you set up in your Activity Room, such as recycled bottles that you place in a crate for a DIY toss game setup. You can also set up a few jumbo inflatable toss games that help with coordination.
Traditional Carnival Games
What's a carnival without a duck pond? Have residents fish ducks out of an inflatable pond using small nets. You can also challenge them to think of different objects they can use besides their hands to fish them out, for example placing two ping pong paddles together. Another classic game idea is knocking-down cans, or milk bottles.
Unique Games
Use a carnival prize wheel for residents to spin to win prizes. Label each prize with a number that matches the wheel. You can also have residents try their luck with this Chuck-a-Luck game of chance.
Prizes
Provide fun prizes for residents to enjoy!
Tokens and Party Favors
Pass out simple party favors as prizes that also double as sensory items! Residents can use these to pass the time as other groups are playing the carnival games. Squeeze balls and paddle ball are great for stress relief and hand-eye coordination.
Candy
Make sure you have an assortment of candy on hand at your facility for those residents with a sweet tooth!
Stuffed Animals
Perfect for nostalgia and reminiscing, as stuffed animals are a common prize at most carnival events.
Music
Play entertaining music during the carnival, like rock and roll music or to set the scene for the summer season, play some relaxing beach music. Consider getting the grandkids involved by setting out instruments for the kids to have fun playing as a band.
Decorations
Add in lots of decorations to keep your facility looking festive for the carnival theme.
Use several different colored balloons to hang up around your facility, and set up some centerpieces in the Activity Room. Have residents assist with the decorations. They can color their own paper pennants and then hang them in the doorways.
You can even use some air dancers to get residents really excited for the event.
Food
In addition to the burgers and hot dogs that Dining Services will serve, add in fun carnival food by setting up several food stations throughout the event for residents and family members to sample, like stations for popcorn, donuts, pretzels, waffles, and snow-cones.
About Not Just Bingo: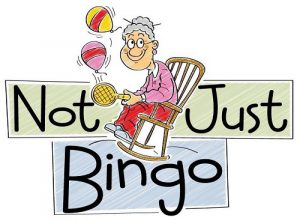 Not Just Bingo is an online resource of fun, senior activity ideas for activity professionals of nursing homes and assisted living facilities. They have been providing fun activity ideas online since 2009, and continue to assist activity professionals across the country by creating meaningful and engaging activity ideas for their residents that go "beyond bingo." Not Just Bingo feels privileged to help activity directors better the living experiences of their residents while demonstrating that a senior's quality of life can actually improve when they move to a nursing facility!
Want even more ideas each month? Visit www.notjustbingo.com for how-to activity ideas, monthly newsletters, and daily holiday ideas. You can also sign up for the Notjustbingo Membership to receive specialized activity ideas to keep your residents and staff engaged, active, and having fun!