Celebrate the upcoming Winter Athletic Games event in Beijing, China with your residents by hosting fun activities during the two-week event (February 4th to February 20th). Schedule activities that get your residents engaged and excited, like creating activities for preparation for the games, Opening Night Festivities, and of course, the Winter Athletic Games. In addition, during the two weeks, be sure to include fun activities that showcase the beauty and culture of China.
Winter Athletic Games Prep
Before the games begin, gather residents to help you decorate your facility in a fun winter theme. Use winter decorations or simply have residents cut paper snowflakes to hang. In addition, schedule a craft activity for residents to assemble and decorate craft stick lanterns that can be used as table centerpieces during your upcoming dining activities.
Finally, organize a Winter Bracelet Beading Party and encourage residents to use winter beads to make winter-themed bracelets that residents can wear during the two-week event.
Opening Night Festivities
Olympic Parade of Nations
If your facility has staff members and residents from different countries, encourage them to participate in an international parade on opening night (Friday, February 4), in recognition of the Olympic Parade of Nations. Encourage participants to wear the attire from their home countries in the parade.
Winter Fashion Show
Host a winter-themed fashion show in recognition of the Winter Olympics fashions that will be showcased on Opening Night during the Olympic Parade of Nations. Beforehand, assist residents to pick out their favorite winter outfit to strut their stuff on your catwalk.
Opening Night Dinner
Celebrate opening night by coordinating with Dining Services to serve dishes from all over the world, like Mexican tacos, Chinese egg rolls, Greek spanakopita, Italian spaghetti, or German bratwurst. In addition, don't forget about dessert. Plan to serve tasty treats like French eclairs, Canadian Nanaimo bars, or Turkish baklava for the final course.
Game Ideas
When the games begin in Beijing, organize several games in your facility, like biathlon, curling, and hockey. Afterwards, don't forget to pass out medals to the games' participants.
Biathlon
Introduce residents to the sport of biathlon, which includes cross-country skiing and rifle shooting, by creating your own winter archery game. Use a plastic dart archery set for residents to test out their targeting skills.
Curling
Invite residents to participate in the sport of curling, which includes sliding stones on ice to land on a target, by creating your own curling game. Use Washi tape and tape off a large rectangle on a wooden floor. Then have residents use the shuffleboard sticks and puck from your shuffleboard set to try to land the puck inside the target. If it's in your budget, you can use a real floor curling set.
Hockey
Encourage residents to join in to play hockey by setting up a goal for residents to hit a large foam ball through. Use plastic hockey sticks or homemade hockey sticks (cardboard tubes or brooms hitting an inflated balloon) for the fun game.
Chinese Culture
Tea Party
Remember to educate your residents about the beautiful host city of Beijing, China by introducing several activities that reflect the Asian country's culture. For instance, host a tea party for residents that feature popular teas from the area, like green tea and ginseng tea.
Beautiful Fans
In China, silk round fans or tuánshàns, which resemble a full moon, and folded fans are still very popular. Therefore, invite your residents to assemble and decorate their own paper fans to use during a fan dance exercise class, where residents use fans to do arm and hand exercises.
Pottery Makers
As China is famous for its pottery and porcelain, be sure to schedule a fun pottery class for your residents to teach them how to sculpt their own pottery using sculpting tools.
In addition, encourage residents to try their hand at painting different porcelain-inspired china patterns, a form of art that dates back to the Shang Dynasty.
Find more ideas from Notjustbingo on the S&S blog here.
---
About Not Just Bingo: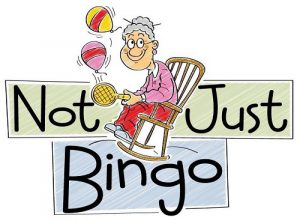 Not Just Bingo is an online resource of fun, senior activity ideas for activity professionals of nursing homes and assisted living facilities. They have been providing fun activity ideas online since 2009, and continue to assist activity professionals across the country by creating meaningful and engaging activity ideas for their residents that go "beyond bingo." Not Just Bingo feels privileged to help activity directors better the living experiences of their residents while demonstrating that a senior's quality of life can actually improve when they move to a nursing facility!
Want even more ideas each month? Visit www.notjustbingo.com for how-to activity ideas, monthly newsletters, and daily holiday ideas. You can also sign up for the Notjustbingo Membership to receive specialized activity ideas to keep your residents and staff engaged, active, and having fun!