Do you have more empty chairs than people in your Exercise Class? If so, then you may want to change a few things this winter, like having residents play fun games instead of doing monotonous arm and leg movements.
Games allow residents to still get the arm and leg movements that you like to provide in your Exercise Class while having much more fun. They also provide opportunities for fun competition as well as prizes that can be used as motivation. If you want to add more exercise to the games, simply alter the games by having residents stand when it's their turn to play.
Here are 9 unique floor games from notjustbingo.com to add to your activity calendar this winter to fill those empty seats in your Exercise Class.
Game #1: Frisbee Golf
Show residents how to combine the sports of Frisbee throwing and golf with a fun game of Frisbee Golf. To play the game in your Activity Room, set up the golf flags on the floor around the room, and have residents toss the discs so that they land around the flags.
Game #2: Dice Rolling
Teach your residents how to shoot dice while getting a great arm workout. Simply provide residents with jumbo inflatable dice to roll to play a fun game of Beat That. To play, have each participant roll two dice, one at a time to get a score. So if the first roll is a 4 and the second roll is a 1, then they have a score of 41. Next, have another player roll the dice to see if they can beat that score. Another option is to use dice that are pre-printed, like the Rock, Paper, Scissors Game dice, where residents can challenge one another in the classic game.
Game #3: Bowling Ring Toss
Have fun with residents as you teach them how to play bowling ring toss. To play, divide residents into teams, and pass out large rings for residents to throw to encircle the pins to accumulate points.
Game #4: Hook & Loop Toss
Set up a hook and loop target for residents to play a game of tar grip toss, where the balls stay on the target. For each round of the game, have residents toss their tar grip balls to see who can land theirs closest to the center of the target.
Game #5: Toss It Net
Encourage residents to work their arm muscles as you have them use a Toss-It Net to toss different objects in the air, like balloons or bean bags. Have residents see how high they can toss the objects by working together.
Game #6: Fly Swat Tennis
Leave the plastic tennis rackets in your activity closet and instead have residents use fly swatters to swat balloons back and forth for a fun game of Fly Swat Tennis. Set up your tennis net in your Activity Room, and provide seated residents with the swatters to hit an inflated balloon over the net.
Game #7: Smash It Ball
Demonstrate to residents how they can play Smash It Ball – the fun game of volleyball without the net. Simply place a hoop on the floor and have residents bounce a ball back and forth so that it bounces within the hoop.
Game #8: Catch Disc
Get residents together to play a game Game On Catch Ball and Disc. Divide residents into pairs, and encourage them to show off their curve balls and sliders to one another.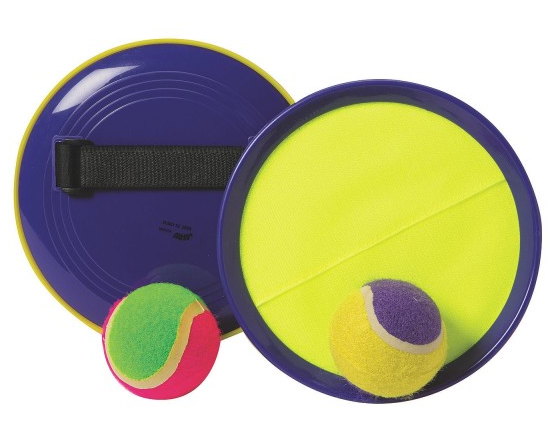 Game #9: Saucer Smash
Introduce your residents to the fun game of Saucer Smash, where residents toss discs in hopes of landing them in the targets. Set up the targets throughout the room and have residents toss their discs into the targets. Instead of using plastic discs, opt for fabric discs so that residents don't get hurt with all the flyer saucers.
---
About Not Just Bingo: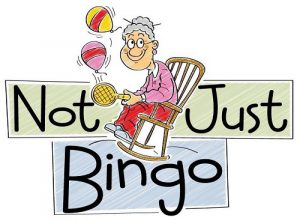 Not Just Bingo is an online resource of fun, senior activity ideas for activity professionals of nursing homes and assisted living facilities. They have been providing fun activity ideas online since 2009, and continue to assist activity professionals across the country by creating meaningful and engaging activity ideas for their residents that go "beyond bingo." Not Just Bingo feels privileged to help activity directors better the living experiences of their residents while demonstrating that a senior's quality of life can actually improve when they move to a nursing facility!
Want even more ideas each month? Sign up for the Not Just Bingo Membership to receive specialized activity ideas to keep your residents and staff engaged, active, and having fun!