Whether your exploring the galaxies during a summer camp week or learning about our planets, these space themed crafts, activities and decorations will bring your classroom or program to infinity and beyond!
Make galaxy slime, fun alien creatures from Mars, rocket ship frames, telescopes, and provide a sensory space experience for your group! View the details for each idea below.
This new scratch pad is great for an outer space themed craft day! These are a fun and easy way to create colorful drawings. Each page features a line illustration on a black background. When you trace the picture with the included stylus, it reveals the bright, vivid color beneath resulting in a beautiful piece of art!
DIY Galaxy Shirts
Get your entire group in the spirit of the theme. Each person can create their shirt with their own colors and designs, so each shirt comes out looking unique. See how the staff here made theirs on our DIY Galaxy Shirt Tutorial.
Collaborative Galaxy Kit
Create artwork as a group to cultivate collaboration and friendship. This galactic space project is out of this world! The kit comes with 3 panels for your group to decorate together or in small groups, then put it together to create one large picture. Your group will be able to create something far beyond what they could ever imagine. Teach your group that they can do anything they set their minds to – let their imagination take them to another dimension and off onto a creative journey.
Reach for the stars with these space-themed disc shooters. Decorated with the natural beauty of outer space, these disc shooters are the perfect party giveaway for any space-themed event. And they are easy to use! Simply load the shooter and give it a squeeze. Kids will watch in wonder as their disks fly across the backyard. Perfect for kids and adults to enjoy together!
You'll need lots of "space" to assemble this beautifully illustrated 48-piece Melissa & Doug® puzzle of our solar system! The extra-thick cardboard jigsaw pieces are built to last, and their easy-clean surface keeps this puzzle looking new. The finished puzzle displays beautiful original artwork of the solar system. Each part of the solar system is named and fully detailed. The colorful scene will inspire curiosity about science and our solar system!
Star Wars Activity Ideas
If you want to incorporate some STEM, Fitness, or Active Play into your program, we have just the activities your group will love! Check out our Makerspace Star Wars Challenges and our Star Wars Activities like the warmups below to keep kids active.
Alien Crafts
Create a Mission to Mars activity where your group finds aliens on Mars. They will craft their own alien creatures using this alien craft kit. This kit comes with all of the supplies to create their own discoveries from another planet. View the tutorial on how to make one of the aliens in the kit.
Your group may also enjoy making these foam alien robots that have interchangeable parts – allowing for hours of creative play!

Constellation Crafts
Discover a whole new world with this  constellation viewer craft kit as an interactive craft for an outer space theme. The pack comes in 12 and includes a pre-punched paper guide disc, tubes, glue, brushes, paint, and paper fasteners. Plus, an informational guide on constellations.
Rocket Launch
Keep your group active during your summer camp, rec program, or other event with a Rocket Launch challenge! See how far kids can launch their rockets. Their mission is to launch as far into outer space as they can. Use these stomp rockets for individual launching that can soar up to 200 feet, or put them into small groups and have rocket races with this rocket launch game. You can add a lesson to this activity as well. Teach kids lessons in ballistics, projection, force, and motion.
Add a few crafts to go along with the rocket theme, like these rocket ship frames. Kids can make believe they are blasting off into space by placing their photo in these frames in the shape of rocket ships! They can also each color their own rocket windspinner and decorate your activity room with the finished projects.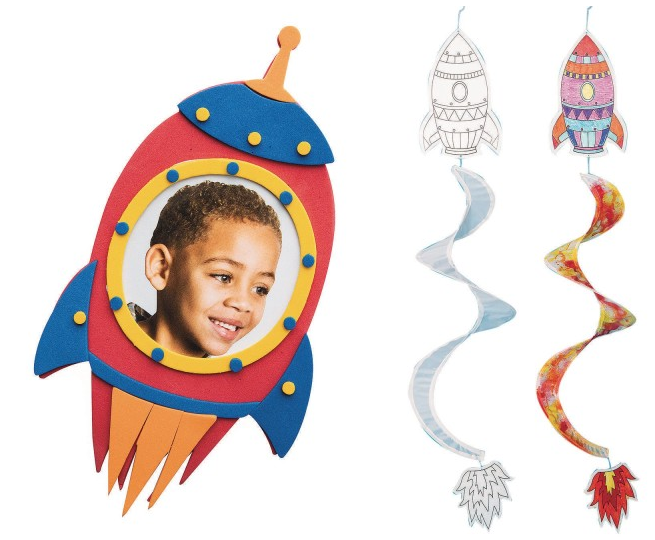 Galaxy & Outer Space Sensory
Sensory Bins
Galaxy Slime
This galaxy slime is sticky, gross and super cool! The pack comes with 24 beaker shaped containers of galaxy slime waiting to be discovered. Kids love slime and this can be used as a tactile sensory activity.
You can also make your own DIY Galaxy slime with this kid-safe recipe along with purple and blue washable paint and silver glitter.
Space Decorations
Use this starry night backdrop to set the outer space scene for your activity room. This makes a great backdrop for a a galaxy theme and for star gazing across the galaxies.