Celebrate National Fun at Work Day on Friday, January 25th! Organize a few fun games and activities throughout the day that different staff members and residents can enjoy. This observance is also celebrated on April 1st and can be combined with April Fools Day.
Before the observance, ask administrators if staff members can wear jeans and sneakers for the day to make it easier to participate in fun activities with residents. Here are a few ideas to ensure that your staff have fun at work with your residents.
Exercise
Play a fun game of Dodge Ball with residents and staff. Seat residents in a large circle and have staff members stand in the center of the circle to dodge the balls. Use soft foam balls for the game.
Organize a beach volleyball game: staff members vs. residents. Set up a volleyball net in your Activity Room and invite residents to challenge staff members to a fun game of beach volleyball using large beach balls.
If you are celebrating in April, host a spring ball game in the backyard featuring your staff members. Invite staff members to play a game of soccer or flag football in the backyard to entertain your residents. Seat residents on the back patio to watch the game.
Arts & Crafts
Invite staff members to decorate with residents for spring. For instance, provide participants with butterfly art to color or ceramic planters to paint. In addition, use craft kits for residents and staff members to paint spring door hangers for current residents and for some of your newer residents who are just moving in.
For easier crafts, use paint-a-dot pictures, in which residents and staff only have to brush water onto the pictures to reveal the colorful paintings, or use raised edged paintings, in which the edges of the pictures are raised to keep watercolors in place.
Social
Recruit staff members to share their talents and abilities in a fun talent show with your residents. If your residents and staff members are a little shy, schedule a fun Checkers Tournament instead. Simply set up a few checker boards in your Activity Room for participants to play.
As a larger social activity, consider hosting a facility-wide happy hour for staff and residents. At the event, encourage staff members to introduce themselves to new residents. Serve food and play fun music while encouraging staff members to dance with the residents.
---
About Not Just Bingo: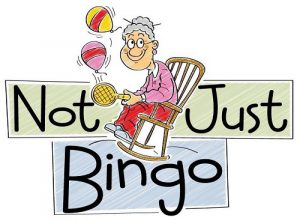 Not Just Bingo is an online resource of fun, senior activity ideas for activity professionals of nursing homes and assisted living facilities. They have been providing fun activity ideas online since 2009, and continue to assist activity professionals across the country by creating meaningful and engaging activity ideas for their residents that go "beyond bingo." Not Just Bingo feels privileged to help activity directors better the living experiences of their residents while demonstrating that a senior's quality of life can actually improve when they move to a nursing facility!
Want even more ideas each month? Sign up for the Not Just Bingo Membership to receive specialized activity ideas to keep your residents and staff engaged, active, and having fun!