Start summer off with a splash! Shark Week starts July 22nd and it's right around the time summer camp starts. So if you're a shark lover and want to add a shark craft theme to your activity program, it's time to start planning! Here are some of our favorite shark themed activities for kids.
Our Velvet Art Shark Posters are exclusive to S&S, designed by our very own Crafty Kate. They have black velvet borders to help guide beginner crafters – plus it helps makes the color pop! Use colored pencils or markers to color in the white spaces. The pack comes with 3 each of 4 designs, for a total of 12 projects.
Shark Origami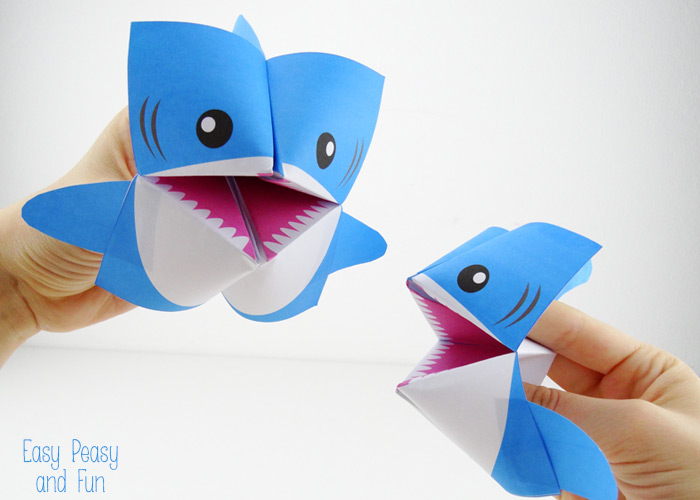 Remember making these fortune tellers as a kid? We found this idea from Easy Peasy and Fun. Just print the template and have kids follow the folding instructions. They can also write fortunes or fun shark facts inside the mouth to make it even more fun!
Kids will love coloring their own shark! These wooden sharks come to life with their flexible bodies that create a realistic swimming motion! Our kit also comes with all of the materials needed, including paint and brushes. You can also use permanent markers to color.
Plastic Bottle Shark 
Turn a recycled bottle into this cool shark craft from Krokotak. Just cut the bottom of a bottle, create a shark with permanent marker, and then attach a fish with string! Kids can have fun trying to get the fish inside the sharks mouth.
Clothespin Shark 
This simple craft is super cute and great for young kids. They can pretend the shark is eating the fish, and control it with the clothespin. View the tutorial at Kix Cereal.
Golf Ball Sharks
Who knew a golf ball could be used to make a shark! This shark craft is one of the most creative ones we've seen. Visit the Craft Klatch blog to learn how to make these adorable yet ferocious sharks.
Shark Fin Bookmark
With only a few materials, kids can each make their own bookmark in just a few steps. They can be used for books or just to play with, and maybe even for a puppet show! Learn how to make them from Simplistically Living.
Shark Visor 
Shark Week would not be complete without dressing up like a shark! Grab some blue visors, cut out a slot at the top for the fin, and use white foam for the teeth. Then add wiggly eyes and you're done! Kids will love wearing these. Have them play some fun Shark Week activities at the same time!
Enjoy Shark Week! Which shark craft is your favorite?