It's time to start thinking about summer, which officially arrives on June 21st. Here are six nursing facility tips from notjustbingo to help you get ready for a fun and safe summer with your residents.
Remember Hydration
As the weather warms up, plan activities that include opportunities to restore hydration to your residents. For instance, set up a juice bar in your Activity Room with pitchers of fresh juice for your residents to enjoy at any time during the day. After any physical activities, reward your participants with cups of water and pieces of fruit – again to replenish the water that was lost during the activity. Another option is to host daily Popsicle breaks for instant hydration. Don't forget to organize regular ice cream parties to keep your residents cool, especially during the hot summer afternoons.
Plan Your Outdoor Gatherings Earlier and in the Shade
Ideally, plan your outdoor festivities earlier in the day to avoid the extreme mid-day heat of the summer. Coordinate early-morning exercises on the front porch, before the humidity starts to accrue. For your afternoon events, consider turning them into indoor/outdoor events. For example, set up your outdoor picnics and barbecues in a way that residents can still have access to indoor air conditioning whenever they start to get too warm.
Use the Sun for Crafts
Plan fun crafts for your Crafts Club that allow you to  take advantage of the beautiful weather. Organize crafts that allow you to use the sun's rays for craft projects, like making sun prints. Use the heat from outdoors to dry your craft projects quicker – this turns your 2-day projects into 1-day projects due to the reduced drying time!
Get More Fresh Air by Hosting Outdoor Games
Invite residents to enjoy the fresh air by taking a few of your indoor games and setting them up outside, like having your shuffleboard tournament on the back patio or hanging a target from a tree to host a Frisbee toss competition in the backyard.
Involve the Grandkids
Take advantage of the fact that the grandkids are out of school by organizing fun backyard games like softball or kickball for the grandchildren to play. Seat residents along the back patio to watch the kids have fun.
Bring the Outdoors In
Decorate your facility with items of nature this summer by starting a few clubs in your facility. Start a Flower Club and have residents cut fresh flowers from the garden to arrange them into vases to create Dining Room table centerpieces. Create a Garden Club in which residents grow a variety of fruits and vegetables that can be eaten by residents during the afternoon socials.
---
About Not Just Bingo: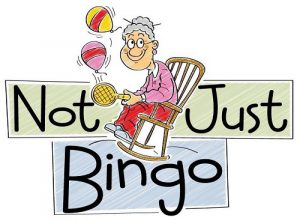 Not Just Bingo is an online resource of fun, senior activity ideas for activity professionals of nursing homes and assisted living facilities. They have been providing fun activity ideas online since 2009, and continue to assist activity professionals across the country by creating meaningful and engaging activity ideas for their residents that go "beyond bingo." Not Just Bingo feels privileged to help activity directors better the living experiences of their residents while demonstrating that a senior's quality of life can actually improve when they move to a nursing facility!
Want even more ideas each month? Visit www.notjustbingo.com for how-to activity ideas, monthly newsletters, and daily holiday ideas. You can also sign up for the Notjustbingo Membership to receive specialized activity ideas to keep your residents and staff engaged, active, and having fun!
Find more summer activities for senior residents here.