Are your residents feeling "stuck" indoors during the cold or rainy weather? If your residents are bored or are suffering from cabin fever, create some fun activities that use their mind, their hands, and their creativity. Here are a few to test out today:
Mind:
To stimulate the mind, start off with matching games for residents to play, like a memory match game with real life images and thick foam pieces to make them easy to grasp. In addition, try out several new trivia games for your residents, like a famous faces and places trivia game or a 1950s trivia game.
Hands:
What can you do for fidgety fingers? Set up several activities that keep your residents' hands busy and completing tasks. Stress balls work great for tactile sensory stimulation. and help with calming. Set up a station for jumbo lacing cards, which can improve hand-eye coordination and can be used as reminiscence starters. You can also combine both visual and tactile sensory with liquid tiles. Residents can press on the tiles with their hands and watch the colorful liquid move around!
Creativity:
Tap into your residents' creativity by using fun art projects. Set up several colorful art activities, like making quote collages, which features mandala designs that residents can color in with markers, or making aqua paintings, where you just add water to your paintbrush and the image appears.
Add some fun ceramic projects to your Activity Program for your residents this season, like sun plaques, tiles, or other fun ceramic crafts.
If your residents are into the masters, then schedule a few fun activities that allow them to replicate the masterpieces of the world. For instance, use paint-by-sticker books that allow residents to fill in masterpieces by Monet, Renoir, and Michelangelo using stickers. Another option, if your residents would much rather show-off their own talents, is to have them use a mini masterpiece craft kit instead.
Besides the usual art kits, you can't go wrong with adult coloring books. Just be sure to use coloring books that have interesting pages. For the activity, simply tear out the pages, have residents fill them in with colored pencils, and then frame them to hang in your residents' rooms.
Find more ideas from Notjustbingo on the S&S blog here.
---
About Not Just Bingo: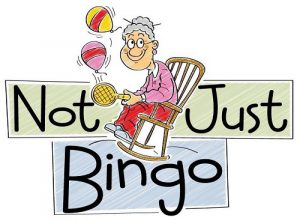 Not Just Bingo is an online resource of fun, senior activity ideas for activity professionals of nursing homes and assisted living facilities. They have been providing fun activity ideas online since 2009, and continue to assist activity professionals across the country by creating meaningful and engaging activity ideas for their residents that go "beyond bingo." Not Just Bingo feels privileged to help activity directors better the living experiences of their residents while demonstrating that a senior's quality of life can actually improve when they move to a nursing facility!
Want even more ideas each month? Sign up for the Not Just Bingo Membership to receive specialized activity ideas to keep your residents and staff engaged, active, and having fun!