So how are you celebrating the end of Daylight Saving Time with your residents this fall? With a Fall Back Time Change Party, of course! Here's what you need to plan the perfect Fall Back party for your senior residents this autumn:
1. Autumn Activities: Pass out pumpkin punch balls and encourage residents to get their arm exercise as they punch the pumpkins back and forth. In fact, host a contest to see which resident can punch their pumpkin the longest without their hands getting tired.
For a less physical activity, provide residents with paint to decorate the pumpkins and gourds in your facility using a pumpkin paint kit.
2. Autumn Pies: Coordinate with your dining services staff to supply a variety of tasty autumn pies, like apple, pumpkin, and sweet potato pies for residents to taste. If providing whole pies is not an option, organize a different sensory stimulation activity by blindfolding residents and giving each a spoonful of a pie filling (cherry, apple, pumpkin) to identify by taste.
3. Autumn Balloons: Use these autumn leaf balloons to make your facility more festive for the season. Inflate the balloons with helium and add anchors so that they float in the air along the perimeters of your hallways and common areas.
4. Autumn Drinks: Put on your best bartender attire to serve non-alcoholic autumn drinks to residents, like alcohol-free hot toddies and hot cider.
5. Autumn Clocks: Don't forget to recruit residents to help you change the clocks in your facility. Gather all the wall clocks in your Activity Room, and have residents help you set the correct time. Try hanging up these Oversized 20″ Aluminum Wall Clocks that are easy for everyone to clearly see!
6. Favorite Things: Scatter cards from this Autumn Photos Activity Cards Set onto your activity tables to help residents focuses on the following festive topics: Harvest, Back to School, Fall Colors, and Preserving. The Favorite Things series was created to provide comfort and inspire connections and conversations through reminiscence. Check out the full product offering here.
Find more ideas from Notjustbingo on the S&S blog here.
About Not Just Bingo: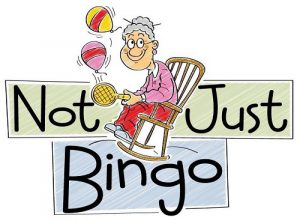 Not Just Bingo is an online resource of fun, senior activity ideas for activity professionals of nursing homes and assisted living facilities. They have been providing fun activity ideas online since 2009, and continue to assist activity professionals across the country by creating meaningful and engaging activity ideas for their residents that go "beyond bingo." Not Just Bingo feels privileged to help activity directors better the living experiences of their residents while demonstrating that a senior's quality of life can actually improve when they move to a nursing facility!
Want even more ideas each month? Sign up for the Notjustbingo Membership to receive specialized activity ideas to keep your residents and staff engaged, active, and having fun!