Help residents celebrate Halloween by filling your facility with themed decorations for this fun autumn holiday! Here are 7 places in your senior facility to focus on:
Front Porch
In keeping with the harvest theme, make the outside of your facility more festive by adding a few cornstalks, bales of straw, and pumpkins on your front porch. Then line the railings along the porch with an orange and black Halloween bunting. In addition, host a Scarecrow Competition, in which teams of residents compete to make the best scarecrow by using pillowcases, old clothes, and straw. Then arrange all the finished scarecrows along the front porch.
Entry Way
Have fun with the entry way of your facility by adding in a few spooky cobwebs to set the mood for your visitors. If there's space available, add in a CD player to play Halloween-themed music like Monster Mash.
Front Desk
As it gets nearer to Halloween, inflate Halloween balloons each day to keep at your facility's front desk to pass out to visiting kids. In addition, keep a witch's cauldron at the front desk that is filled with candy and Halloween party favors like bouncing eye balls or spider rings. You can also use a permanent marker to draw eyes and a mouth on white balloons to make ghosts, and on orange balloons to make pumpkins.
Dining Room Tables
Fill pumpkin cups or jack o lantern pails with orange tissue paper to use as table centerpieces on your Dining Room tables, or use these fun Halloween themed centerpieces that are already made. In addition, string Halloween paper chains throughout the Dining Room for added decoration. For a healthy yet spooky snack, pass out some oranges or tangerines that have jack-o-lantern faces drawn with marker!
Room Doors
For the apartment doors of your facility, invite residents to decorate masks with paint and glitter before hanging them on their front door for the holiday. Then they can wear them on Halloween day!
Activity Room
Decorate your Activity Room with a Halloween scene that can be placed on one of the walls. In addition, keep residents returning to the Activity Room by placing a cauldron of candy as treats to those who participate in activities.
Hallways
Use a Halloween decorating kit to provide a variety of fun, hanging Halloween decorations throughout your facility. In fact, get residents in on the decorating by hosting a Halloween Hallway Contest, in which residents compete to decorate the best hallway in your facility.
About Not Just Bingo: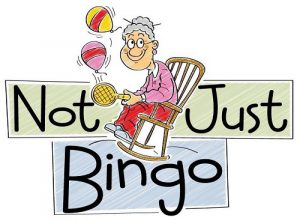 Not Just Bingo is an online resource of fun, senior activity ideas for activity professionals of nursing homes and assisted living facilities. They have been providing fun activity ideas online since 2009, and continue to assist activity professionals across the country by creating meaningful and engaging activity ideas for their residents that go "beyond bingo." Not Just Bingo feels privileged to help activity directors better the living experiences of their residents while demonstrating that a senior's quality of life can actually improve when they move to a nursing facility!
Want even more ideas each month? Sign up for the Notjustbingo Membership to receive specialized activity ideas to keep your residents and staff engaged, active, and having fun!