Even though residents have to socially distant this winter season, they can still fulfill many items on their winter bucket list this year. Here are a few ideas to help you get your residents completing their winter bucket list:
Go to a Movie
While the movie theaters are closed, your residents can still enjoy a socially distant movie in the hallway (while residents are sitting in their doorways) or while spaced out in a large activity room. Be sure to pass out popcorn and drinks to help residents feel like they're actually in the theater.
Go Bowling
Set up a fun bowling game in the hallway for residents to play. If you do not have enough bowling balls so that residents will not have to share balls, then get a little creative by turning your bowling game into a golf bowling game, in which residents use golf clubs or even pool noodles to try to hit the ball to knock down the pins.
Build a Snowman
Help residents build their own snowman by supplying them with a snowman craft, in which residents assemble self-adhesive foam pieces to create a snowman. In fact, turn the activity into a competition to see who can assemble the most creative snowman in your facility.
Do a New Puzzle
Invite residents to take on a new jigsaw puzzle that they have never done before by having them color and solve their own jigsaw puzzles. For the activity, first provide residents with the nature puzzle kit that they can color using markers. Then encourage them to test out their puzzle by separating the pieces and putting them back together again.
Make a Snow Globe
Encourage residents to make their own snow globes for the season by drawing pictures or even cutting out pictures of themselves to include in the plastic snow globes.
Play in the Snow
If the weather cooperates, fill several squeeze bottles with water and food dye so that a few of your mobile residents can create designs outside in the snow by squeezing the colored water on the snow. If the weather's too cold for your residents, then encourage them to map out a design for you and your staff to go outside to create in the snow. Seat residents near a large picture window to see the finished product.
Make a Gingerbread House
Supply residents with paper-mache birdhouses to decorate and paint to look like fun winter gingerbread houses. Hang the finished houses throughout your facility for the season.
Have a Snowball Fight
Seat residents in their doorways and supply them with soft snowballs to toss at staff members as they walk down the hallway during a fun Hallway Dodge Ball game.
---
About Not Just Bingo: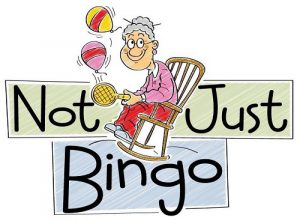 Not Just Bingo is an online resource of fun, senior activity ideas for activity professionals of nursing homes and assisted living facilities. They have been providing fun activity ideas online since 2009, and continue to assist activity professionals across the country by creating meaningful and engaging activity ideas for their residents that go "beyond bingo." Not Just Bingo feels privileged to help activity directors better the living experiences of their residents while demonstrating that a senior's quality of life can actually improve when they move to a nursing facility!
Want even more ideas each month? Visit www.notjustbingo.com for how-to activity ideas, monthly newsletters, and daily holiday ideas. You can also sign up for the Notjustbingo Membership to receive specialized activity ideas to keep your residents and staff engaged, active, and having fun!