Since your residents are probably spending lots of time in their rooms during this pandemic, consider introducing them to new hobbies that they can easily do alone like writing. Here are 5 writing activities from notjustbingo.com to suggest to your cabin-fever residents:
Journaling
Encourage your residents to write down some of their memories so that they can pass them on to their loved ones. For example, pass out journals for residents to fill with their fond memories, important dates, or even a mockup of their family tree.
Help residents get going with the activity by having them write about one of their most memorable days, like their wedding day, the birth of their first child, or even what their first day at a job was like.
Writing Stories
Invite residents to begin creating and writing their own stories. To help residents, provide them with story prompts that they can use to start their stories. Once your residents have written their own stories, ask them to submit their favorites to be included in your monthly facility newsletter.
During the writing process, if you're finding that your residents are having a hard time with writing, be sure to supply them with the necessary supplies, like pencil grips or jumbo pens.
Writing Comic Books
Persuade residents to take a stab at writing comic books. With comic books, residents are not limited to just their writing but can get creative with drawings. For the activity, supply residents with downloadable blank comic strip templates to fill in with storylines and character drawings. Encourage them to use colored pencils to help tell the story through pictures and color.
However, if your residents are getting stuck with the drawing part of the activity, then encourage them to draw stick people for the time being and to just focus on the writing. Then later you can provide fun lessons for your residents on how to draw cartoons that they can being incorporating into their comic strips.
Filling in Mad Lib Stories
For your residents who like to tell stories but may feel stuck with writer's block, help them get unstuck by downloading funny Mad Libs stories to fill in. With the Mad Libs, residents can fill in the blanks of the story using different nouns, verbs, and adjectives. These random words seem to make the stories even more interesting, which may spark a creative idea for your residents.
Photo Stories
Finally, pass out fun photos for residents to use as writing prompts for their stories. For instance, supply residents with photos of the summer, the winter, or even of animals. Then encourage residents to write a short story based on the photos.
Find more ideas from Notjustbingo on the S&S blog here.
---
About Not Just Bingo: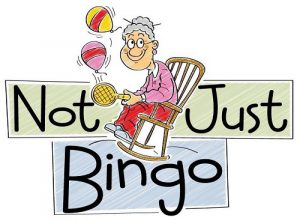 Not Just Bingo is an online resource of fun, senior activity ideas for activity professionals of nursing homes and assisted living facilities. They have been providing fun activity ideas online since 2009, and continue to assist activity professionals across the country by creating meaningful and engaging activity ideas for their residents that go "beyond bingo." Not Just Bingo feels privileged to help activity directors better the living experiences of their residents while demonstrating that a senior's quality of life can actually improve when they move to a nursing facility!
Want even more ideas each month? Sign up for the Not Just Bingo Membership to receive specialized activity ideas to keep your residents and staff engaged, active, and having fun!