It's coming! Winter will be here before you know it. So how are you going to celebrate the first day of winter in your nursing facility? If you need a few ideas, then keep reading to find 9 fun activities to incorporate on that first day of the season.
Make seasonal JEWELRY
Provide residents with easy to use stretch jewelry cording and assorted winter beads to string festive bracelets and necklaces. Recruit your residents to make lots of bracelets and necklaces that you can either use as winter prizes for an upcoming winter carnival in your facility, use as crafts that can be sold at an upcoming winter crafts fair or give as gifts!
Decorate Winter Picture Frames
Help your residents move from autumn to winter by having them decorate a winter picture frames for their rooms. Supply residents with the kit's paint and winter cutouts to create winter-themed frames that can be filled with photos of their favorite staff member or grandchildren.
Host a Winter Discussion
Plan a fun winter discussion for your residents to talk about their favorite things of winter. Use a winter activity card set to get the discussion going as you pass around pictures of winter photos. Encourage residents to reminisce and tell stories of their favorite winter experiences.
Decorate the Windows
Recruit your residents to help you decorate your Activity Room for the season by placing winter static clings on walls and windows for added seasonal cheer.
Decorate Scarves
Supply residents with white scarves that they can decorate with cool, winter colors using a tie-dye kit. Save the finished scarves to donate or sell at an upcoming winter crafts fair.
Make Snow Globes
Since the first day of winter falls on a weekend, plan an inter-generational craft with the grandchildren by showing residents and kids how to assemble their own snow globes. For the project, first have participants draw their own winter scene on paper before adding the scenes to the globe. Then have them fill their globes with water.
Organize an Indoor Snowball Fight
Schedule a fun indoor snowball fight for your residents using light and fluffy indoor snowballs that residents can toss back and forth. Encourage staff members to get in on the action by participating in the fun activity.
Winter Poetry Reading
Share winter poems and other writings to your residents sharing what winter is like for various animals. Use the activity as an opportunity for residents to interject and discuss their experiences of winter with their own animals.
Make Festive Snowmen Decor
Have residents make their own snowmen decor on the first day of winter! The first option is sewing festive snowman banners that can be used to add cheer to their apartment doors for the season. Supply residents with the kit's felt, buttons, floss, and needles to easily assemble the winter-themed banners. If sewing doesn't appeal to your residents try this cute snowman box craft kit. It's great for holding holiday treats! What kind of Frosty strikes your fancy?!
Find more ideas from Notjustbingo on the S&S blog here.
---
About Not Just Bingo: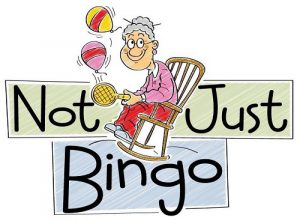 Not Just Bingo is an online resource of fun, senior activity ideas for activity professionals of nursing homes and assisted living facilities. They have been providing fun activity ideas online since 2009, and continue to assist activity professionals across the country by creating meaningful and engaging activity ideas for their residents that go "beyond bingo." Not Just Bingo feels privileged to help activity directors better the living experiences of their residents while demonstrating that a senior's quality of life can actually improve when they move to a nursing facility!
Want even more ideas each month? Sign up for the Not Just Bingo Membership to receive specialized activity ideas to keep your residents and staff engaged, active, and having fun!