If you have residents who suffer from cabin fever, try a few of these activity ideas and tips from notjustbingo.com to keep your residents engaged throughout the winter season.
Schedule Table Game Tournaments
Grab several checkers boards and host a checkers tournament for residents to play. In fact, schedule Game Night for each Friday night, in which residents can compete in different board games like chess, Yahtzee and Dominoes.
Create an Indoor Garden
Set up an indoor greenhouse for your residents to get their hands dirty by organizing an area in your Activity Room for residents to display and tend to their flowers and herbs.
Furthermore, if you have the space, consider setting up a portable indoor garden for residents to grow vegetables. Maintain the portable garden throughout the year to provide indoor gardening activities even during the hot and humid summer.
Host an Indoor Grilling Party
Plug in your indoor electric grill to make easy treats for residents to sample, like toasty s'mores. If planning an ice cream party, consider grilling pineapples and peaches for residents to add to their ice cream sundaes.
Take Residents to Warm Destinations
Host an armchair travel activity to take residents to warm locales around the world or on a serenity journey in the comfort of your Activity Room. As an added treat, serve an appetizer that relates to the part of the country that you are scheduled to visit (e.g., serving key lime pie for a trip to the Florida Keys, guacamole made from California avocadoes for an afternoon in southern California, egg rolls for a trip to China, or nachos for an afternoon in Mexico).
Additionally, if your residents enjoy traveling while sitting in their own chair, then make sure to provide traveling DVDs that allow residents to see a few places from the other side of the world, like in Australia. If your residents enjoy the journey more than the destination, then make sure to use a few traveling DVDs for your armchair travel activities, like a Scenic Drive DVD.
Start a Walking Club to Get Residents Moving
One of the best ways to ward off cabin fever is to keep moving. Assist your residents with moving by starting a Walking Club for residents to walk the hallways each morning after breakfast.
Furthermore, for those residents who enjoy a good workout, supply them with a few hand weights to carry as they swing their arms back and forth.
Organize a Jigsaw Puzzle Party
Set out an array of fun jigsaw puzzles for residents to complete. In fact, consider making it a competition by placing a different jigsaw puzzle at each of the tables in your Activity Room, and then grouping residents to work on a puzzle together.
To make things fair, be sure to only use jigsaw puzzles that all have the same amount of pieces. In addition, try to find jigsaw puzzles that have interesting pictures and that are made to make it easy for arthritic hands, like these shark jigsaw puzzles, penguin jigsaw puzzles, and rooster jigsaw puzzles.
Teach Residents a New Sport
Teach your residents a few sports that they may have never played or that they may have given up a long time ago. For instance, use a golf putting game, to play indoors to remind your residents just how much fun the game of golf can be. Another sport to introduce to your residents is the popular Italian sport of bocce ball. Use an indoor bocce ball set with fleece balls that still roll like regular bocce balls but without the floor scratches.
Set up a Food Tasting
Organize a food tasting in your Activity Room for residents to sample new foods. For instance, use a pretzel maker to provide tasty mini pretzels for a pretzel tasting. In contrast, for a fun dessert tasting, use a donut maker that residents can decorate with icing.
Find more ideas from Notjustbingo on the S&S blog here.
---
About Not Just Bingo: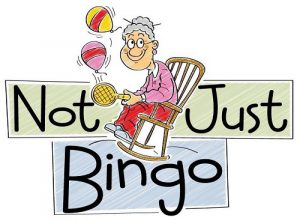 Not Just Bingo is an online resource of fun, senior activity ideas for activity professionals of nursing homes and assisted living facilities. They have been providing fun activity ideas online since 2009, and continue to assist activity professionals across the country by creating meaningful and engaging activity ideas for their residents that go "beyond bingo." Not Just Bingo feels privileged to help activity directors better the living experiences of their residents while demonstrating that a senior's quality of life can actually improve when they move to a nursing facility!
Want even more ideas each month? Sign up for the Not Just Bingo Membership to receive specialized activity ideas to keep your residents and staff engaged, active, and having fun!