Celebrate the men in your facility on International Men's Day, which falls on November 19th each year, by providing a fun-filled day of activities that target the men in your facility. Here are a few activities to consider:
Chit Chatting
Get the men socializing with one another with a fun game of Toss-n-Talk – Men's Edition, where the men toss the ball back and forth while answering the questions on the ball.
Crafting
Show the men how to craft with metallic foil by using a tooling craft kit. For the activity, have the men select from the six molds to create the metallic foil art.
Competing
Provide the men with model planes to decorate before flying them to see whose plain travels the farthest.
Reminiscing
Supply the men with unfinished classic cars that the men can paint and decorate as they reminisce about their favorite classic cars of yesteryear. They can also decorate a motorcyle craft kit or mini race cars.
Playing Catch
Invite the men to play a fun game of catch using a catch ball disc set, in which the men can toss and catch balls back and forth in your Activity Room. Another alternative is this hand mitt catch set or involve a group and use this Toss Four Game.
Find more ideas from Notjustbingo on the S&S blog here.
---
About Not Just Bingo: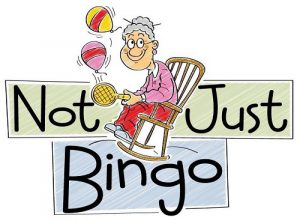 Not Just Bingo is an online resource of fun, senior activity ideas for activity professionals of nursing homes and assisted living facilities. They have been providing fun activity ideas online since 2009, and continue to assist activity professionals across the country by creating meaningful and engaging activity ideas for their residents that go "beyond bingo." Not Just Bingo feels privileged to help activity directors better the living experiences of their residents while demonstrating that a senior's quality of life can actually improve when they move to a nursing facility!
Want even more ideas each month? Sign up for the Notjustbingo Membership to receive specialized activity ideas to keep your residents and staff engaged, active, and having fun!