This is a craft tutorial I LOVE. It's about Graffiti Art. While I was driving my daughters around downtown Seattle, they were bothered by the graffiti on buildings and trains. So we started discussing how those people might live in a poverty setting, maybe their parents couldn't afford art classes or special creative outlets for them like singing lessons or dance classes. Maybe as they grew older into adulthood, they had hard feelings and didn't know how to express them so they began painting graffiti.
We did discuss how it's illegal and not nice to vandalize the property of others. We talked about how some of the graffiti we saw was really good! And I suggested that maybe if those people had been given the opportunity to paint for a business, how wonderful that would be. It inspired me to let these children create some graffiti art of their own.
Objective: Creating artwork inspired by graffiti and spray painting. Graffiti Art is used to refer to the images painted usually with spray paint. These images are most often found on buildings but what would it look like if this technique could be seen in galleries or museums?
Minimum Age: Preschool
Materials:
Step 1:
If you wish to have a background color in your art piece, you can begin by painting your paper. In this example, the background has been painted blue. You may also choose to leave it white.
Step 2:
To help us create images, place down your foam pieces in any order you wish. You may want to overlap them, spread them out, squish them close together. However you choose to create will be as unique as you are.
Step 3:
In a squirt bottle, squeeze a few drops of paint and some water. The more water you add, the lighter the color will be and the easier it will be to squirt it. The less water added, the darker the color but smaller hands may find it more difficult to squirt.
Step 4:
Squirt your watered-down paint over your paper and foam pieces. This will resemble painting with an arasal spray paint can. You can choose to add a second color if you wish.
Step 5:
Let dry and remove your foam pieces. You now have created images on your artwork.
Step 6:
Using a black marker, you can trace your images, creating bold outlines.
Step 7:
Continue to draw on your artwork. You can create lines, swirls, squiggles, dashes, dots, etc. You can mount your art to a piece of construction paper, creating a border.
Line: An Element of Art created by pen, pencil, or any tool.
The craft we created to go along with this art project were dancing ribbons (different colors and thicknesses of yarn the children could loop around a wooden piece). I played some music and we all stood up to dance and move around to the beat.
About the Author: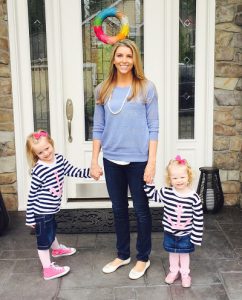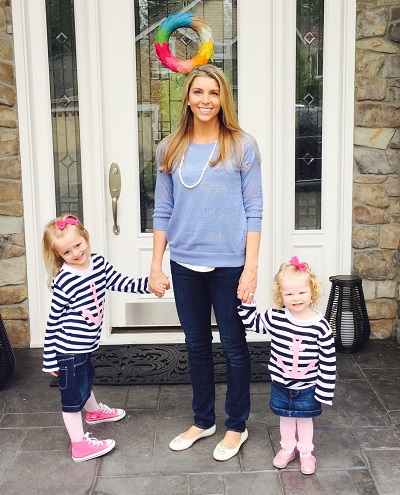 Randi is the founder of How 2 Play Today. She created this online community to share ideas and help inspire others to create. Randi has always had an interest in child psychology and has been following that passion since she was a kid herself. Over the years, Randi has been capturing adventures of her and her children and sharing these ideas on her website at how2play.today. This helps busy parents and caregivers who want to play more with their kids but need ideas, product suggestions, and a simple guide for activities.