Help your residents celebrate this year's theme "Caring is Essential" for National Assisted Living Week from September 13th through September 19th by providing fun activities throughout the week that show your residents how much your facility's staff cares for them and their well-being each and every day. Here are a few social-distancing ideas from notjustbingo to consider for your schedule
Collections
Encourage residents to reflect on how much their families and friends care for them by providing activities that allow them to collect and showcase pictures of their loved ones:
Host a hallway scrapbooking party for your residents, in which residents sit in their doorways with their tray tables to record and document their family photos in scrapbooks. Be sure to provide residents with stickers, paper, metallic pens, stencils, and other scrapbooking supplies to decorate the scrapbooks. Beforehand, contact family members to send you old photos and mementos that can easily be placed in a scrapbook.
Decorate wooden frames for residents to fill with their family member photos.
Make personalized pendants with residents that hold their family photos.
Community
Recruit members of your facility's community, like staff and volunteers, to show residents how much they care by getting involved in a few fun activities during the week:
Encourage staff members to sign greeting cards that can be distributed to each resident.
Assemble snow cones with staff members to pass out to residents for a fun afternoon treat. Use snow cone cups, crushed ice, and sugar-free syrup for the snack.
Schedule a singing tribute in which staff members perform fun karaoke songs for your residents.
Concentration
Provide games during the week that are fun and that allow residents to take care of their health by getting up and moving:
Coordination
Introduce new craft and art techniques throughout the week to help your residents improve their fine motor skills:
Connections
Provide activities that allow residents to connect more with staff and other residents by sharing their stories:
With your residents' permission, use a phone or tablet to record them answering questions about their early lives, like where they were born, how many siblings they had, and what it was like growing up in their city. Send the finished digital clip to loved ones.
Play a fun hallway game for residents to share with one another by using conversation cards to ask questions of each resident.
Celebrations
Even though your residents are socially distancing, you can still host fun celebrations for them where they can socialize with other residents – in their doorways or spaced apart in the backyard.
Schedule a fun happy hour for residents. Before the event, coordinate with Dining Services to provide tasty appetizers, like pretzels, Cracker Jack, and popcorn, as well as nonalcoholic drinks for residents to enjoy. Then during the happy hour, use your facility's camera to take lots of pictures to send to loved ones.
Set up a virtual performance for an entertainer to play music for residents that you can pipe throughout your facility for everyone to hear.
Communication
Don't forget to connect your residents with family members during the week where they can remain socially distant:
Set up virtual visits so that family members can see and talk with residents on your residents' phones or tablets.
Organize a fun parade in which residents dress up in party hats and beads and go outside to wave as cars of family members drive pass.
Provide residents with cards to decorate using markers and puffy paint that they can mail to their loved ones.
Find more ideas from Notjustbingo on the S&S blog here.
---
About Not Just Bingo: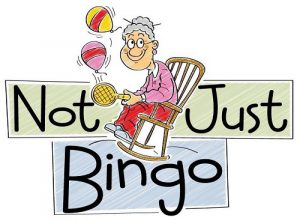 Not Just Bingo is an online resource of fun, senior activity ideas for activity professionals of nursing homes and assisted living facilities. They have been providing fun activity ideas online since 2009, and continue to assist activity professionals across the country by creating meaningful and engaging activity ideas for their residents that go "beyond bingo." Not Just Bingo feels privileged to help activity directors better the living experiences of their residents while demonstrating that a senior's quality of life can actually improve when they move to a nursing facility!
Want even more ideas each month? Sign up for the Not Just Bingo Membership to receive specialized activity ideas to keep your residents and staff engaged, active, and having fun!