Encourage residents to get moving for National Physical Therapy Month in October without letting on that they are actually exercising! Consider adding a few of these fun, physical activities from notjustbingo.com to your October activity calendar:
1. Juggling Class – Host an easy juggling class for residents using colorful scarves. Start with one scarf as you show residents how to throw the scarf up with one hand and catch it with the other. Gradually add in another scarf as you slowly build them up to use three scarves at a time. The scarves are also useful for chair dancing activities in which residents hold the scarves as they move their arms to music.
2. Tennis Academy – Set up a "tennis academy" in your Activity Room as you teach residents the proper way to serve a tennis ball. Provide residents with plastic tennis rackets and foam balls as you give a tennis service instruction. Place chairs on one side of the room and show residents how to throw up the foam ball and swing to hit the ball to the other side of the room. Be sure to reuse the plastic rackets for future balloon tennis games using your indoor net. You can also play table tennis. 
3. Harvest Carolers – Be inspired by the traditional Christmas carolers as you invite residents to walk the halls with you to spread a bit of harvest cheer by singing popular American folk songs. Lead residents through the hallways to serenade passersby, bedridden residents, and staff members. You can even pass out small musical instruments for residents to play along the caroling walk.
4. Elvis Impersonations – Play Elvis Presley music and pass out Hula Hoops as you encourage residents to give their best Elvis hip-moving impersonation. Show residents how to move their hips to "Jailhouse Rock" or "Hound Dog" as they keep the Hula Hoops moving on their hips. Afterwards, award your Elvis Presley impersonators with refreshing peanut butter and banana shakes as a snack.
5. Rocking Chair Fundraiser – Get your residents' calf muscles moving as you host a rocking chair fundraiser for residents to raise money for a local charity. Before the event, ask family members to pledge a dollar for each 10-minute session that their loved one rocks in their rocking chair. Encourage residents to keep rocking to increase donations for the charity.
6. Referee Try-Outs – Recruit residents to try-out to become sideline referees for an upcoming backyard flag football game among your staff members or even the grandkids. Take residents outdoors on your back patio as you teach them a few referee football signals, like those for touchdown, roughing the passer, and false start. During the big game, seat your new referees along the sidelines and hand them whistles to blow as they move their arms to make the signals.
Find more ideas from Notjustbingo on the S&S blog here.
---
About Not Just Bingo: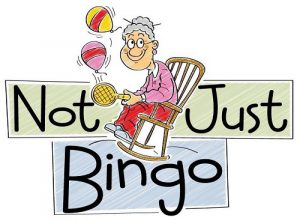 Not Just Bingo is an online resource of fun, senior activity ideas for activity professionals of nursing homes and assisted living facilities. They have been providing fun activity ideas online since 2009, and continue to assist activity professionals across the country by creating meaningful and engaging activity ideas for their residents that go "beyond bingo." Not Just Bingo feels privileged to help activity directors better the living experiences of their residents while demonstrating that a senior's quality of life can actually improve when they move to a nursing facility!
Want even more ideas each month? Sign up for the Notjustbingo Membership to receive specialized activity ideas to keep your residents and staff engaged, active, and having fun!