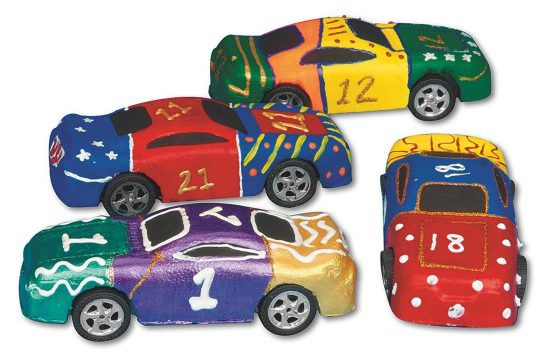 We love to share creative ideas for our products from our customers! Michael Lyons from the Montana Traffic Education Association (MTEA) shares how he uses our foam race cars for Traffic Education:
This is my third purchase of these foam race cars. Our activity includes a lesson on physics and automobile crashes. First, the kids design their cars with paint and decals. Some kids also put paper clips into the foam to make a roof on the car. I have created ramps that they can use for the cars. Two cars race at a time, for both speed and distance.
For the next activity, have the ramps face each other. Each car will carry an egg, which is the passenger. We hollow an egg sized hole into the car so it can carry their egg person down a ramp. Of course, the race cars head toward each other and there is a head on collision. You can start off by having the eggs unsecured (no seat belt) which leads to the eggs breaking. Then you can have them try again, this time with rubber band seat belts which helps keep the egg into place. This activity teaches the importance of security and to always buckle up! Amazingly, these race cars can take great impact and keep their passengers safe.
Kids love to take pictures and videos of the races. One of them took a very funny slow motion video last week where the rubber band seat belt snapped, causing the egg to fly through the air! The student said, "This video says it all, wear your seat belt!".
Submitted by: Michael Lyons from the Montana Traffic Education Association (MTEA), Missoula Division – Missoula, MT. Visit their website at www.mteaonline.org