Need help getting your residents that use a wheelchair or have other disabilities to stay active? Then try adding in a few seated games to keep them moving and having fun. These ideas from notjustbingo are also great for National Physical Therapy Month in October.
Toss and Catch Games
Schedule several toss and catch games since they allow your seated residents to easily play. For instance, set up a few inflatable tossing games, like ring toss or even Wheel of Fortune that has an inflatable wheel.
In addition, organize several traditional tossing games for residents to play that can keep them exercising their arm muscles:
Target Games
For residents who enjoyed fishing, play a fish themed target game, where they try to hit the big fish target with bait tossing discs. This can be used as a one on one activity, or with partners. To go along with this theme, add a game of inflatable pond beanbag toss, where residents have to get their frog beanbags to safety by tossing them into the targets. Add point values for successful tosses!
You can also set up a few fun target games for residents to play, like soft-tip darts or popout darts. For your former hunters, use a crossbow kit for your residents to practice their sharpshooting on deer and bears.
Parachute Games
Place your wheelchair residents in a large circle where they can use a traditional parachute to play fun parachute games:
Balloon toss (place balloons on the parachute)
Bean bag toss (place bean bags on the parachute)
Move to music (play music in the background)
Circus tent (residents raise their arm and roll slightly under the parachute)
Waves (raising the parachute at different times)
Merry-go-round (residents roll around in a circle while holding the parachute)
Popcorn (bouncing several balls on top)
Ball roll (residents move their arms so that the ball on top moves in a certain direction)
In addition, during those patriotic holidays throughout the year, use a patriotic parachute, and during other times, use a fun smiley face parachute.
As an alternative to the parachute, use the Octaband to encourage residents to do various exercises together.
About Not Just Bingo: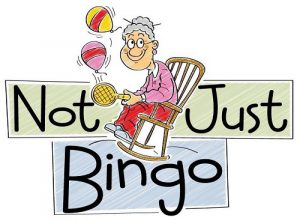 Not Just Bingo is an online resource of fun, senior activity ideas for activity professionals of nursing homes and assisted living facilities. They have been providing fun activity ideas online since 2009, and continue to assist activity professionals across the country by creating meaningful and engaging activity ideas for their residents that go "beyond bingo." Not Just Bingo feels privileged to help activity directors better the living experiences of their residents while demonstrating that a senior's quality of life can actually improve when they move to a nursing facility!
Want even more ideas each month? Visit www.notjustbingo.com for how-to activity ideas, monthly newsletters, and daily holiday ideas. You can also sign up for the Notjustbingo Membership to receive specialized activity ideas to keep your residents and staff engaged, active, and having fun!