If you're an activity director or work at a senior living facility, you may need some new activity ideas to celebrate Saint Patrick's Day with your residents. Here are a few unique and fun ways to enjoy this holiday from notjustbingo.com.
Best-Dressed Leprechaun Contest. Invite participants to compete in an interesting best-dressed leprechaun contest on St. Patrick's Day. Provide green hats for participants to add to their attire. For the men, encourage them to wear green shorts, green shirts, green ties, and long white socks; for the women, encourage them to wear green dresses or green tops with green pants. Provide the men with clay to make their own pipes before the contest.
Photo Booth. Set up a fun photo shoot for your residents to take pictures wearing a leprechaun beard and hat. Send the photos to your participants' family members for a nice chuckle.
Pub and Card Party. Gather the men for a fun pub-inspired poker party in your Activity Room. Keep the (root) beer flowing as you teach the men how to play a few Irish card games. If you're looking for more of a physical tavern-themed game, play a pub game of darts with the men instead.
St. Patrick's Day Parade. Encourage participators to dress in green as they help you pass out St. Patrick's Day balloons to passersby in your facility's hallways. Be sure to put themed clings on the windows too!
King and Queen Contest. Throughout your Saint Patrick's Day party, encourage your guests to vote on a king and queen of the day. Award the winners with a special St. Patrick's Day hat and tiara.
Green Beer Happy Hour. Host a fun happy hour featuring green drinks for participants to try. Use green food coloring to add to beer or root beer for everyone to sample. To keep participants entertained during the happy hour, host a fun trivia competition: men vs. women.
Horseshoe Game. Play a fun toss game to get residents active on St. Patrick's Day. During your one-on-one visits, encourage participants to build-up their motor skills by tossing the foam horseshoes onto the target.
St. Patrick's Day Bingo. Host a fun Saint Patrick's Day bingo game using your regular bingo cards, while also using chocolate gold coins as the bingo chips. Once the game is over, encourage participants to keep (and eat) their bingo chips.
Jig Dance-Off. Finally, invite dancers to compete in a fun jig-off as they dance to Irish music. Encourage the spectators to act as the judges by saying who must exit the dance floor due to their less-than-par jig-dancing skills. Award a prize to the last dancer standing.
Need more St. Patrick's Day ideas for your facility? Check out our article on How to Decorate Your Senior Facility for St. Patrick's Day.
---
About Not Just Bingo: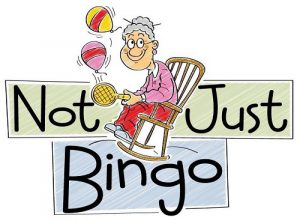 Not Just Bingo is an online resource of fun, senior activity ideas for activity professionals of nursing homes and assisted living facilities. They have been providing fun activity ideas online since 2009, and continue to assist activity professionals across the country by creating meaningful and engaging activity ideas for their residents that go "beyond bingo." Not Just Bingo feels privileged to help activity directors better the living experiences of their residents while demonstrating that a senior's quality of life can actually improve when they move to a nursing facility!
Want even more ideas each month? Sign up for the Not Just Bingo Membership to receive specialized activity ideas to keep your residents and staff engaged, active, and having fun!