Looking for something different as a Mother's Day activity, besides the annual Mother's Day Brunch? Try adding in one of these fun bonding ideas for your resident-mothers and their adult children. (Don't worry – keep the brunch on Sunday, but host one of these fun events on the Saturday before!). Here are some fun themed Mother's Day activities from notjustbingo.com:
Ice Cream Parlor: Create an ice cream parlor, with tables and chairs, in your Activity Room as you invite the adult kids for a fun ice cream party with their mothers. Set up a toppings bar with nuts, sauces, and sprinkles. Remember to include your diabetic mothers by supplying sugar-free ice cream and sugar-free toppings. Try to use special containers or bowls to set this activity apart from your usual ice cream parties. Even provide cookies so that the guests can make their own ice cream sandwiches. You can also plan a fun activity, like this scoop stacking challenge.
Movie Matinee: Invite the adult kids to spend an afternoon at the movies with their mothers – in your facility. Host a fun movie matinee in your Activity Room featuring popular movies about mothers, like The Joy Luck Club or Steel Magnolias. Set up your own concession stand in the back of your Activity Room to provide fresh popcorn, peanuts, and candy.
Shop 'til You Drop: Organize a Saturday bus trip to your local outdoor market, like a farmer's market or even a large garage sale, for the adult kids to shop with their moms. Encourage the sons and daughters to drive themselves to make room on your bus for more mothers.
Cooking Class: Pair your residents with their adult kids as you teach them an easy dessert to make. Set up tables in your Activity Room to make it look like a real cooking class, and provide each table with the ingredients and utensils to make the treats. Consider using the commercial ovens in your facility's kitchen to bake the desserts or, if baking is not an option, use no-bake recipes for the cooking class. Or plan an activity related to baking, where they can create their own baking cupboard with magnetic pieces.
Backyard Picnic: Send out invitations to the adult kids to join a picnic with their mothers in your facility's backyard. Turn your back patio into a fun spot for an afternoon picnic of sandwiches, chips, and cookies while also being a hot spot for family interaction so that the sons and daughters of your residents can meet one another.
Senior Walk: Host a mid-morning walk (or roll for those in wheelchairs) for the mothers and their children in your neighborhood. Encourage family members to encourage their abled mothers to sign up for the event.
Painting en Plein Air: Enjoy the warm weather as you set up canvases, easels, and paint for your mothers and their adult kids to bond with another as they paint outdoors. Ask the participants to paint springtime landscapes and to be sure to sign their works of art.
Afternoon Tea: Encourage the mothers to dress up in their Sunday best on this Saturday to participate in an afternoon tea with their kids. Coordinate with Dining Services to serve finger sandwiches, bite-sized cookies, and a variety of teas for all to enjoy.
Spa Day: Turn your Activity Room into a fun spa in which you provide an array of nail polishes for your residents and their daughters to use to paint one another's nails. Play fun music from the 1940's that your residents, and perhaps their daughters, remember. Get more ideas from this spa day blog!
Volunteering Together: Organize a volunteer project for the mothers to participate in with their adult kids, like sewing blankets for a local homeless shelter or making stuffed animals for a local children's hospital. Consider planning a future trip for the intergenerational volunteers to drop-off the donated items.
Which Mother's Day activities are your favorite?
---
About Not Just Bingo: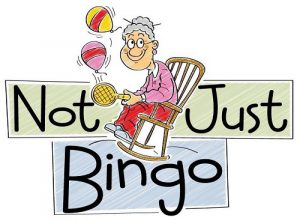 Not Just Bingo is an online resource of fun, senior activity ideas for activity professionals of nursing homes and assisted living facilities. They have been providing fun activity ideas online since 2009, and continue to assist activity professionals across the country by creating meaningful and engaging activity ideas for their residents that go "beyond bingo." Not Just Bingo feels privileged to help activity directors better the living experiences of their residents while demonstrating that a senior's quality of life can actually improve when they move to a nursing facility!
Want even more ideas each month? Sign up for the Not Just Bingo Membership to receive specialized activity ideas to keep your residents and staff engaged, active, and having fun!