Decorating for Saint Patrick's Day can be fun, but also challenging when you have a large facility. Our friends at notjustbingo.com have picked 7 key places to decorate in your nursing facility, along with some suggestions for what types of decor to use.
Activity Room. Turn your Activity Room, or your main event room, into party-central by making it the centerpiece of all your St. Patrick's Day decorations. About a week before the holiday, recruit volunteers to assist with adding fun decorations that will not get in the way of your day-to-day activities, like hanging decorations made from green crepe paper. Hanging decorations are an easy way to add color to the room while making the room appear more festive
.
Facility Doors. Before St. Patrick's Day arrives, get your residents and staff in a buzz about the upcoming holiday by making sure to decorate the doors in your facility. Use green construction paper to cut out shamrocks to add a touch of Irish magic to your residents' doors, and gold or green tissue paper to cover the doors of your facility's administrators. You can even get your administrators involved by having them compete to see who can design the most creative St. Patrick's Day door. (Have your residents be the judges.)
Facility's Hallways. Get residents to help you with decorating your facility's hallways by hosting a fun hallway-decorating contest, in which residents help decorate their hallway for St. Paddy's Day. Be sure to divide your St. Patrick's Day decorations evenly – so that you don't appear biased! After the hallways are decorated, invite family members to stop by (preferably the weekend before St. Patrick's Day) to vote on the best decorated hallway. Once the holiday arrives, attach green balloons to furniture throughout your hallways (or let them float to the ceiling) to add even more of the festive green color.
Facility Entrance. Use your facility's entrance as the place to provide just a few classic St. Patrick's Day decorations, like a banner or a pot of gold. (Having a pot of chocolate gold coins near the entrance is a great way to entice the grandkids to visit more.)
Dining Room. Don't forget the Dining Room tables. If you are unable to make
St. Patrick's Day crafts to act as the tables' centerpieces, simply use ready-made shamrock centerpieces instead. Overall, be sure to have some sort of centerpiece for your tables that will highlight your special St. Patrick's Day meal, like a delicious corned beef and cabbage lunch.
Windows. Make sure to decorate the rooms of your bedridden residents for the holiday. For instance, tie green balloons to their bedposts and use window markers to draw shamrocks on their windows. Don't forget to tape any St. Patrick's Day cards or letters that they have received onto their bedroom walls.
Residents. Finally, don't forget to decorate your residents! Pass out St. Patrick's Day shamrock necklaces, color their own hats with green fabric markers, and tiaras for residents to wear all day long!
---
About Not Just Bingo: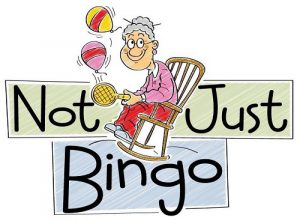 Not Just Bingo is an online resource of fun, senior activity ideas for activity professionals of nursing homes and assisted living facilities. They have been providing fun activity ideas online since 2009, and continue to assist activity professionals across the country by creating meaningful and engaging activity ideas for their residents that go "beyond bingo." Not Just Bingo feels privileged to help activity directors better the living experiences of their residents while demonstrating that a senior's quality of life can actually improve when they move to a nursing facility!
Want even more ideas each month? Sign up for the Not Just Bingo Membership to receive specialized activity ideas to keep your residents and staff engaged, active, and having fun!