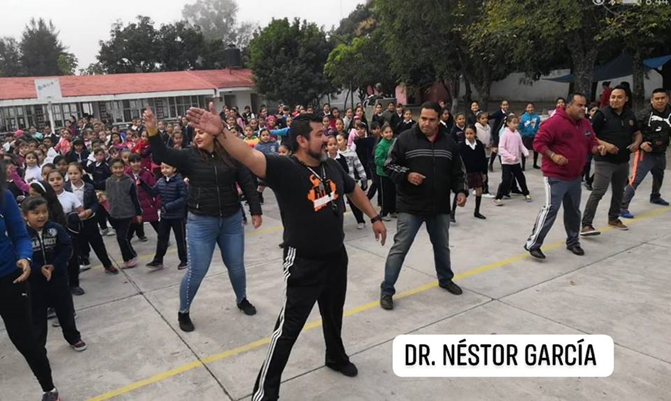 This week for the #FeaturedPETeacher section on the PE Central Facebook page, is a special foreign PE spotlight on Néstor A. García Peña.
"On a recent visit to Guadalajara, Mexico I met one of the most articulate and moving physical education teachers named Néstor Agustin García Peña." – Artie Kamiya, Founder of National Physical Education & School Sport Institute.
*The following was translated from Spanish 
About Néstor: 
Néstor A. García Peña is an elementary Physical Education teacher. He teaches a total of 765 students at four different elementary schools in the state of Jalisco in Mexico. Néstor has been teaching for 19 years. Below are the 4 schools he teaches at.
Rafael Ochoa Montaño Urb School 368 – Tala, Jalisco, Mexico
Miguel Hidalgo School and Costilla – La Villita in Tala, Jalisco, Mexico
Amado Nervo Ruiseñores School – Tala, Jalisco, Mexico
School José Rolón Alcaraz Ruiseñores – Tala, Jalisco, Mexico
Current Lesson Plan/Unit
In Mexico there is a national physical education curriculum. Currently we are working on lessons related to cooperation, leadership and teambuilding. In these lessons our students are learning that physical education is a journey with many possible ways to get the final destination. By acquiring knowledge, developing motor skills, adopting positive attitudes and values, our students begin to recognize the different potentials that lie inside each of us.
PE Focus for 2019
The focus is to develop competence. In our planning, we know that competency is not starting point of the plan, but a point of arrival. This final goal is the result of acquiring knowledge, developing skills, adopting attitudes and creating value through physical education.
Favorite Lesson Plan/Unit
My favorite lessons are those where the students are able to create activities based on the skills they have learned. In other words, lessons where students see and experience their own ways to value their health, their well being and friendly coexistence.
What is your favorite part of being a PE teacher?
There are two primary reasons why I enjoy teaching.
#1: The students and myself enjoy working towards our annual physical education goals.
#2: Physical education is the most beloved subject at my schools. For example, when I arrive at a classroom the students shout with excitement.
Is there a program, event or something else that you want to highlight related to your physical education program?
As I mentioned before, we promote the basic concepts of a "Healthy Lifestyle" and "Peaceful School Coexistence" within each school. These are two important values that we try to instill in our students at every grade level.