With Bastille Day coming up on July 14, begin planning a few French-themed activities for your nursing home residents to enjoy. Consider adding these 7 ideas from notjustbingo to your monthly activity calendar:
1. Go Cruising
Take residents on an around-the-world cruise to visit exotic places, including Europe, using a travel DVD set.
2. Make French Fare
Invite residents to make their own aprons before teaching them how to make tasty baguettes or eclairs.
3. Drink Champagne
Host a champagne happy hour for residents by playing French café music in the background as you serve champagne and appetizers to residents. Before the happy hour, create a champagne tower by stacking champagne glasses in a pyramid and then pouring the champagne into each of the glasses by pouring from the top.
4. Play Petanque
Show residents how to play the popular French game of petanque, which is similar to Italian bocce ball where you roll balls to see how close you can get them to the jack (the small white ball).
5. Enjoy Hot Air Balloons
Encourage residents to join together to assemble a hot air balloon sticker mosaic that can be displayed in your Activity Room for the day.
6. Pair Wine and Cheese
Schedule a wine and cheese tasting for residents to enjoy. Ahead of time, chat with your local wine dealer to find several wines that would go great with a variety of different cheese.
7. Eat Chocolate
Organize a chocolate fondue party in which residents place marshmallows on skewers before dipping them in a chocolate fondue fountain.
About Not Just Bingo: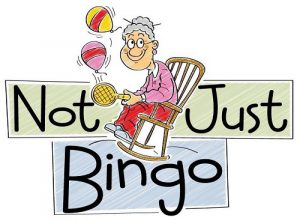 Not Just Bingo is an online resource of fun, senior activity ideas for activity professionals of nursing homes and assisted living facilities. They have been providing fun activity ideas online since 2009, and continue to assist activity professionals across the country by creating meaningful and engaging activity ideas for their residents that go "beyond bingo." Not Just Bingo feels privileged to help activity directors better the living experiences of their residents while demonstrating that a senior's quality of life can actually improve when they move to a nursing facility!
Want even more ideas each month? Visit www.notjustbingo.com for how-to activity ideas, monthly newsletters, and daily holiday ideas. You can also sign up for the Notjustbingo Membership to receive specialized activity ideas to keep your residents and staff engaged, active, and having fun!