This week for the #FeaturedPETeacher section on the PE Central Facebook page, the spotlight is on Cathryn Bass!
About Cathryn:
I teach grades K-4 at Center Valley Elementary and also college courses at Arkansas Tech University in Russellville, AR. My title is Health and Physical Education Specialist. This is my 11th year teacher elementarty school and my 7th year at the college level.
Current Lesson Plan/Unit: 
Soccer. Lots of foot work, balance skills, team work and strategy. My favorite game is at the end of the unit where the students put all of their skills together to play multigoal soccer. They get practice being a goalie and defending their space while other are dribbling and shooting. Once a students make a goal, they switch with the goalie. We have around 6 goals for maximum participation and movement.
Focus for 2019: 
My goal is student choice. Letting the students have more of a say when they are working out but learning when they do not get a choice and why.
Favorite Lesson Plan/Unit: 
Dance – We do it along with jump rope during February for Heart Health Month. They both work on perseverance as well as rhythm and timing. and they are fun!!!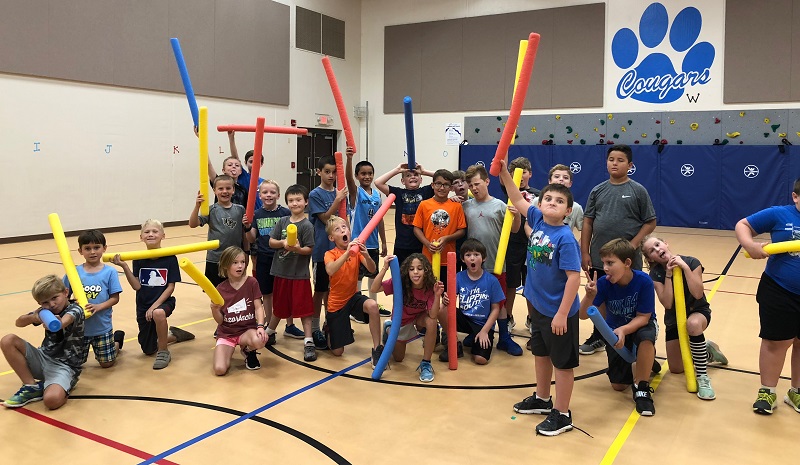 What is your favorite part about being a PE Teacher?  
My favorite part of being a PE teacher is helping student gain confidence in skills and themselves. I never ask my students to be perfect but I do ask them to try. When they finally get something and their smile just melts my heart.
Is there a program, event, or anything else you'd like to highlight related to your PE program?
We participate in a program called Take Your Parents to PE Week from Active Schools At the end of September, they encourage schools and PE teachers to invite parents to come and join in on the fun of PE. A great deal of people still have a negative thought process of PE because of their past. I cannot tell you how fun it is to show parents how much fun learning and moving can be but seeing families do it together is amazing! It also helps parents to get to know you and they are more willing to support you and your program.