'Tis the season for caps and gowns, diplomas, and well wishes! With commencements all around us, why not try incorporating this graduation season into your nursing facility's activities. Here are a few activity ideas from notjustbingo.com to get you started.
Decorate Shadow Boxes
Invite residents to incorporate their own photos and mementos from school into small shadow boxes. If residents do not have any of their own photos, then provide them with scrapbooking supplies, like decorative paper, letter stencils, and stickers to dress up their boxes. Encourage residents to keep their shadow boxes to show their visiting grandchildren as they tell them about their school days of the past.
Write Words of Wisdom
Pass out note cards for residents to decorate and write words of wisdom and encouragement to give to your facility's volunteers who are graduating this year. The cards can also be given to student volunteers who are graduating from their grade level and are moving on to the next grade.
Make Confetti Balloons
Recruit residents to help you fill large clear balloons with colorful confetti. To make the confetti, simply cut up pieces of colorful paper, and place it in the balloons before inflating.
Give Out Motivational Bracelets
Schedule your own commencement by hosting a graduation ceremony where you issue certificates to honor your residents who participate in your daily Exercise Class. As a gift, pass out motivational bracelets to encourage residents to continue coming out for your classes.
Host a Graduation Party
If you have a volunteer who is graduating this year, then invite residents to help you decorate for a fun graduation party using graduation tablecloth and graduation balloons. Coordinate with Dining Services to provide tasty desserts for a fun Graduation Dessert Party that your graduates and residents can enjoy.
About Not Just Bingo: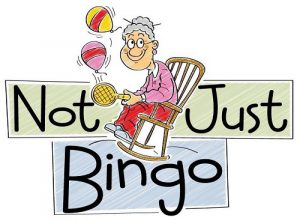 Not Just Bingo is an online resource of fun, senior activity ideas for activity professionals of nursing homes and assisted living facilities. They have been providing fun activity ideas online since 2009, and continue to assist activity professionals across the country by creating meaningful and engaging activity ideas for their residents that go "beyond bingo." Not Just Bingo feels privileged to help activity directors better the living experiences of their residents while demonstrating that a senior's quality of life can actually improve when they move to a nursing facility!
Want even more ideas each month? Visit www.notjustbingo.com for how-to activity ideas, monthly newsletters, and daily holiday ideas. You can also sign up for the Notjustbingo Membership to receive specialized activity ideas to keep your residents and staff engaged, active, and having fun!