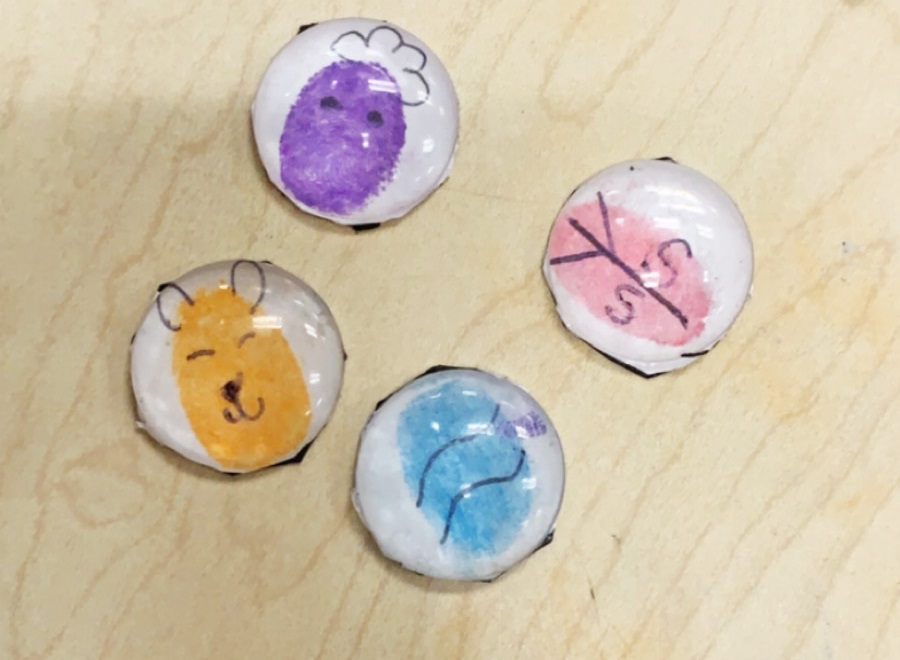 We tried out this super cute and super fun craft in our kids program. It's one of my new favorites! Kids can make their own personal DIY animal magnets with thumbprints! Our kids were literally begging their parents to stay longer so they could make more for their fridges and their friends. 
Materials:
Instructions
1. Create your design using the child's pointer or pinky finger (you want to make sure the design is small enough to fit under the stone but it will be magnified) and dip it into the color ink of their choice. 
2. Turn your fingerprint into an animal, a fruit or a silly design using the pen 
3. Using liquid or stick glue , glue a clear plastic stone over the design and let dry for a second 
4. Cut out the design with the stone glued on exactly on the edge of the stone so you don't see any of the paper outside of the stone 
5. Stick a magnet strip onto the back of the stone and design and cut the magnet into the same shape as the stone 
And done! These make super cute keepsakes that are fun and easy for everyone involved. 
About the Author:
My name is Savannah Syke, my whole life I have loved making creative and colorful projects and spending time with children. I have been running the childcare center (Kids Stuff) at the Emma B Howe Family YMCA for 4 years now. Our mission statement and principles at the Y are creating responsible, honest and creative kids, and these are the values I like to have my programs reflect and represent. I run a program called Kid's Stuff for ages 6 weeks to 10 years old, Big Kid's Stuff for children over 5 years old, and Parent's Night Out.