While some senior residents flock to group games and activities, there are other residents who prefer the peace and quiet of doing activities on their own. So if you have higher-functioning residents who would rather skip your Activity Room in order to do their own individualized activities in their room, then consider these 6 independent games to drop off for those residents.
1. Rubik's Cube
Invite your resident to try to solve an easier version of the classic Rubik's Cube in their room. As a fun challenge each week, stop by your resident's room with the cube for your resident to try to solve. Encourage them to work on it throughout the week to see if they can solve it.
2. Picture Puzzles
Invite your resident to improve their observation skills with fun picture puzzles. Simply provide your resident with the puzzles that they can solve by trying to spot the differences in similar pictures.
3. Puzzle Challenges
Set up a light-up puzzle in your Activity Room and encourage passersby to take the challenge of trying to replicate a puzzle from a challenge card. Encourage participants to time themselves to see how long it takes them to complete the challenge. Then invite them to come back again at a later time to see if they can beat their previous time.
4. Crossword Word Search Puzzles
Make available copies of various crossword and word search puzzles in your Activity Room for residents to freely pick up and solve. In fact, consider hosting a fun weekend challenge, in which you provide a word search puzzle and a crossword puzzle on Friday evenings in your Activity Room for residents to solve over the weekend and turn in by Monday morning to receive a prize.
5. Jigsaw Puzzles
Organize a puzzle table somewhere in your facility for a larger-piece jigsaw puzzles for residents to work whenever they want. Find an empty or seldomly trafficked area in your facility to set up a small table for the puzzle. Then encourage residents to stop by throughout the day to work a few pieces at their leisure. Then once the puzzle has been solved, simply switch out the solved puzzle with a new jigsaw puzzle.
6. Lyric Matching Game
Consider putting together a Resource Library in your Activity Room that contains independent games and books that residents can access and complete on their own. One such resource to add to this library is the lyric matching game, in which residents try to match two halves of a popular song lyric.
View all of our senior activities and games here.
---
About Not Just Bingo: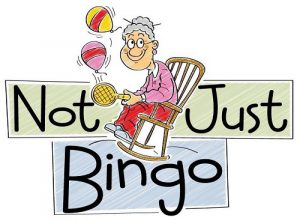 Not Just Bingo is an online resource of fun, senior activity ideas for activity professionals of nursing homes and assisted living facilities. They have been providing fun activity ideas online since 2009, and continue to assist activity professionals across the country by creating meaningful and engaging activity ideas for their residents that go "beyond bingo." Not Just Bingo feels privileged to help activity directors better the living experiences of their residents while demonstrating that a senior's quality of life can actually improve when they move to a nursing facility!
Want even more ideas each month? Visit www.notjustbingo.com for how-to activity ideas, monthly newsletters, and daily holiday ideas. You can also sign up for the Notjustbingo Membership to receive specialized activity ideas to keep your residents and staff engaged, active, and having fun!