Celebrate God with these VBS Themes! These fun & captivating themes are great for offering meaningful enrichment. Children can discover their faith with these inspirational and engaging themes. Fun and intriguing themes teach about God and life lessons. Life lessons help every child learn how to be a good person and a friend to others. Learning has never been more entertaining with so many creative ways to play, craft, and decorate. 
VBS Themes: Roar & In the Wild
Two of the VBS publishers use Jungle Safari Themes as common themes. Whether it's Group's Roar (Life is Wild, God is Good) or Lifeway's In the Wild (Amazing Encounters with Jesus), the adventures are sure to be extROARdinary! Here are some fun ideas to get you started no matter which jungle path you explore.
Jungle Themed Puzzles: 
What better way to celebrate Roar than with a fun and challenging puzzle in the shape of a tiger? We also have mini jungle animal shaped puzzles including a sloth, giraffe, and more!
Shadow Drawing:
We love this idea from the Above and Beyond, Te Puna Facebook page. Kids can use jungle animals to create shadow drawings. Set up sheets of paper, place the animals in from of the paper in the sunlight, and watch as the shadows form on the pages! Share with your group how God created the sunlight, and it reflects on all of His creations.
DIY Lion Craft:
For a simple DIY craft for younger age groups, make these little lions with doilies, yarn, construction paper, wiggly eyes, and glue. View the tutorial here.
Other activities:
Create your own DIY jungle theme with construction paper! Have your group color and design their own animal masks for active play! Choose from the crafts and activities below for even more wild adventures.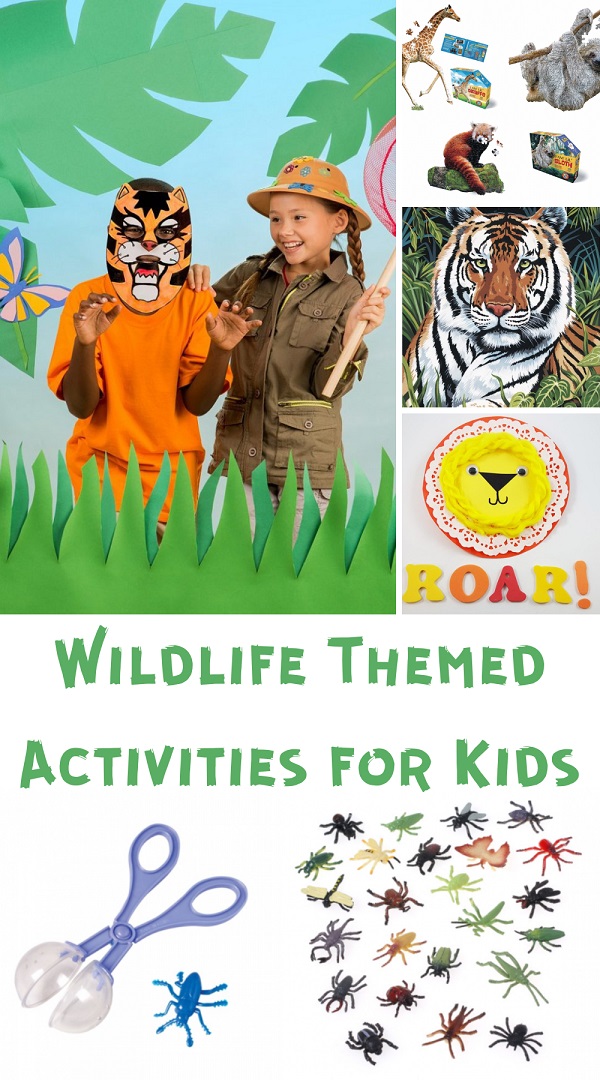 VBS Themes: To Mars and Beyond & Miraculous Mission
Whether your exploring Cokesbury's how God's love can take us to Mars and Beyond or using Concordia's theme Miraculous Mission on how His love can cross galaxies to let us know we are not alone and we are Marvelously Made, these space themed crafts, activities and decorations will bring your VBS program to infinity and beyond!
Collaborative Galaxy Kit:
Create artwork as a group to cultivate collaboration and friendship. This galactic space project is out of this world! The kit comes with 3 panels for your group to decorate together or in small groups, then put it together to create one large picture. God is able to go far beyond what we could ever imagine. Teach your group that they can do anything they set their minds to – let their imagination take them to infinity and beyond and God will be there along their journey.
Other Activities:
Make galaxy slime, fun alien creatures from Mars, rocket ship frames, telescopes, and provide a sensory space experience for your group! View the detials for each idea below.
 VBS Themes: Farm Fresh Faith, GiddyUp Junction, & Yee-Haw
Farm Fresh Faith from Bogard Press and GiddyUp Junction from Regular Baptist Press both have a down home feel. While GiddyUp Junction offers more of a wild west theme taking Gods love to New Frontiers, Farm Fresh Faith hosts more of a true farm and barnyard story where God like all good farmers, takes care of his own. Both VBS Themes are sure to entertain, teach kids about God, and round up a few Yee-Haws! Speaking of, don't forget Group's theme called Yee-Haw!
Farm Puzzles:
Your group can color these small wooden puzzles with markers, then write a quote related to the Farm Fresh Faith theme or words from a Bible Verse on the back of each piece. The pack comes with a total of 12 farm animals. Check out what customers had to say below:
"These small wooden puzzles are great! They are a good quality and will be a great craft project for us to use at Vacation Bible School. Thanks!" – Cindy, Nashville
"Old MacDonald's farm in puzzle form – these are great interactive toys for group play and fine motor skill development." – Annabett, Pittsburgh
Other activities:
 Check out some individual crafts, props, and activities below for some great ideas for a proper western experience!
VBS Theme: Athens
We're excited about our new Greek pottery scratch art that aligns pefectly with Group's all-new HLA VBS theme called Athens: Paul's Dangerous Journey to Share the Truth. The story of Apostle Paul can teach kids about his journey to share the truth of God's heart for humanity.
Everyone creates their own "life size" Greek vessel by scratching designs into the black scratch chipboard to reveal the red color underneath. An EduCraft® guide is included with instructions, background history, and activity tips.
Your group can also decorate ceramic bisque vases with acrylic paints or permanent markers. They can add some Greek symbols, quotes, and relate to Paul's story and his experiences.
VBS Themes: Shipwrecked & Splash Canyon
These themes are back again from last year! Check out our VBS 2018 blog for ideas and activities related to these themes.
Activity Ideas for VBS Themes – Game On, Time Lab, Shipwrecked, Splash Canyon
Resources to Combine VBS Themes
VBS Journal:
Our Velvet Art Camp Journal Kit is perfect for any VBS theme – the cover can be personalized with the title of the theme you choose for your program. Then kids can write their favorite Bible quotes, inspirational sayings, and their experience with each activity during the themed activities.
Learn more about the kit from Cathy's Nursery school here. 
Coloring Activity:
Kids can color these Color-Me™ animals with permanent markers or fabric markers. The blank white canvas allows kids to be creative with color combos or realistic designs. Add sequins, yarn, and more. The set comes with 3 each of a pig, dog, elephant, and fish. The pig and dog can be used for the farm themes, the elephant for the jungle themes, and the fish for the water themes.
Additional 2019 VBS Theme Resources
Share your favorite VBS themes in the comments!