Crafty Kate, our very own craft expert here at S&S, has some super creative ideas. She came up with this adorable doily lion craft for kids! It's a very simple paper craft that requires simple craft materials. You can also use this as a Mother's Day craft. Here is Kate's tutorial:
Materials: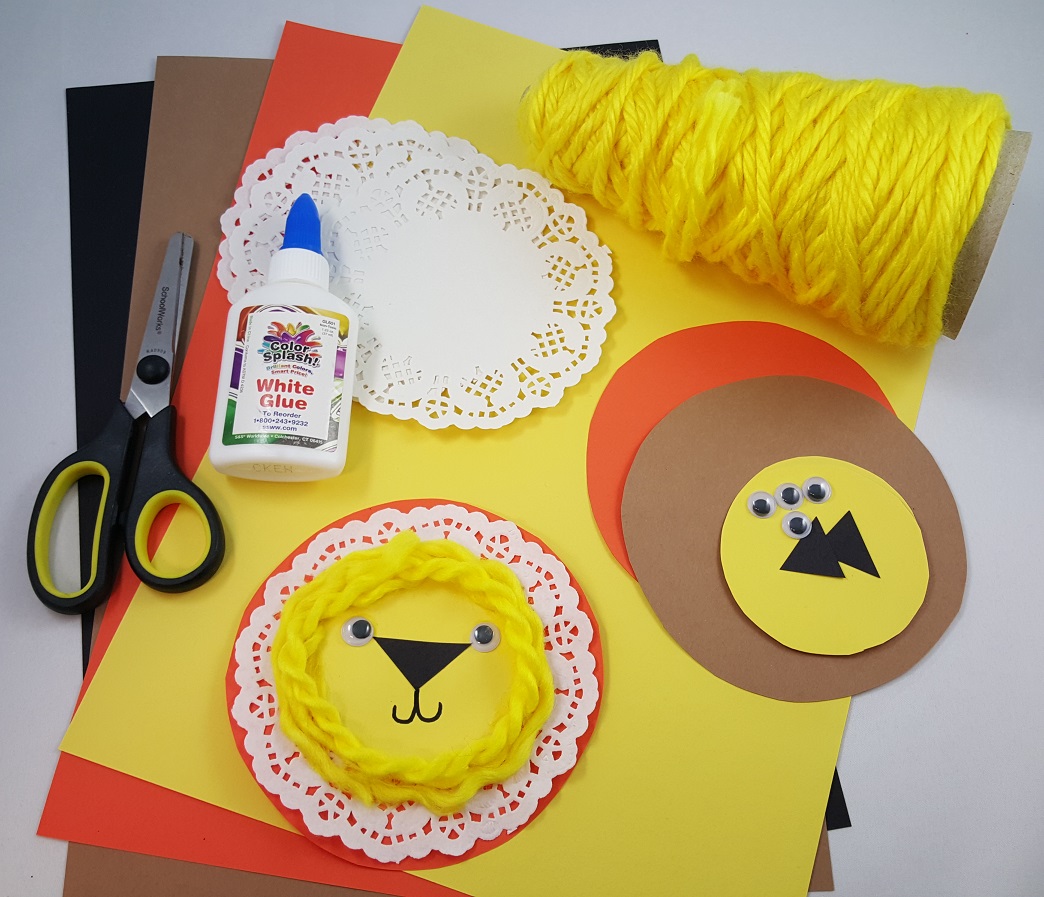 Step 1: Use a pencil to lightly trace around the outer edge of the doily, making a circle on orange or brown construction paper. For this tutorial I used orange construction paper. The circle should be about 4.5″ in diameter (slightly larger than the doily).
Step 2: Cut out the orange circle and set it aside.
Step 3: Cut out a circle with yellow construction paper. The circle should be 1 inch smaller in diameter. Tip: To make the circle to size, use an extra doily and cut the center out. Then trace the circle onto the yellow paper.
Step 4: Glue the doily to the center of the orange circle, and glue the yellow circle to the center of the doily.
Step 5: Cut a small triangle out of black construction paper for the nose. You can choose from a few different types of triangles. Glue the triangle to the center of the yellow circle.
Step 6: Use a marker to draw a simple mouth. Then glue the wiggly eyes on each side of the nose.
Step 7: Cut a piece of yellow yarn, about 9 inches long. Unravel the yarn (it should unravel easily into 4 strands) and arrange it in a circle around the face of the lion. This is his mane.
Now you have an adorable doily lion! Create different colors and different nose shapes for each lion so they each have their own personality.
Mother's Day Paper Craft – Doily Lion Card
You can also make this into a Mother's Day craft! Use a sheet of construction paper (I used orange to match the background) and glue the lion in the center. This is the "O" in Mom. Then use pipe cleaners to create the letter "M" twice. Glue those to each side of the lion to spell "MOM". Then kids can spell out something fun, like "I love you and I'm not lion" at the bottom with foam letters. Mom will love this and can hang it on the refrigerator!