Not quite sure what activities to have or games to play with your senior residents at your Halloween party this year? Here are a few ideas from our friends at notjustbingo.com to get you started:
Pumpkin Games
Set up several games that involve pumpkins, like a Pumpkin Knock-Down game in which residents use small pumpkins or gourds to knock down a stack of Halloween cups.
Another pumpkin game is Guess the Pumpkin's Weight in which residents try to guess the exact weight of one of your largest pumpkins. Throughout the night, allow residents to get up close with the pumpkin in hopes of guessing its weight. Award one of your best prizes to the person who comes closest to the actual weight.
If your residents are not as active, consider playing a seated game of Hot Pumpkin – played just like Hot Potato but with residents tossing an orange bean bag to music until the music stops. Whoever is left holding the bean bag when the music stops is out of the game. Continue on until you have just one person left.
You can never go wrong with a fun balloon volleyball game. To continue with the Halloween theme, use orange balloons that are decorated as jack-o-lanterns, which can be done by simply using a black marker to draw jack-o-lantern faces on the balloons and allowing them time to dry.
Monster Mash Happy Hour

Invite residents to dress up in fun attire (like mismatched clothes or lots of jewelry) to attend a fun happy hour in your Activity Room. For the activity, play upbeat Halloween music (like Monster Mash!) to get residents in the mood as you serve signature Halloween drinks with fun names, like Magic Potion Punch or Witch's Brew. Continue with the theme by serving tasty Mummy Dogs (mini hot dogs wrapped in bread to look like mummies) as appetizers.
Play Stack the Bones, a fun Jenga inspired game with a Halloween theme!
Food Games
Take advantage of this pumpkin season by hosting a fun Donuts on a String contest. Purchase (or have your facility's Baking Club bake) pumpkin donuts for the contest where residents try to eat the donuts without using their hands. To play the game, tie a string around each donut and hang them from a long stick that you and other staff members hold up. Award a prize to the resident who can eat their donut without letting it fall to the ground and without using their hands.
Another fun food game involves Halloween candy. If you have lots of miniature chocolate bars, you can host a taste test in which residents sample a piece of each of the mini candy bars in hopes of identifying them. Give a special prize to the resident who correctly guesses the identity of each of the candy bars.
Halloween Trivia
Have fun with residents while educating them with fun facts about Halloween. If you have many movie buffs in your facility, consider organizing a Halloween Movie Trivia contest in which you describe a popular Alfred Hitchcock movie for residents to identify (e.g., this movie was set in a small coastal town where uninvited visitors ruined the outdoor birthday party).
Intergenerational Games
Invite the grandkids to stop by to go trick-or-treating in your Activity Room. Line the perimeter of your room with chairs for residents to sit in to pass out Halloween candy. Invite the little ones in their costumes to walk around saying "trick-or-treat" to collect the candy.
Another fun intergenerational game that your residents will love is Halloween Bingo. To play a Halloween bingo game, simply alter the top of your bingo cards by covering B-I-N-G-O with W-I-T-C-H. Ask your bingo caller to make note of the change and make the proper calls (e.g., W5 instead of B5). Pass out candy corn to use as the bingo chips.
About Not Just Bingo: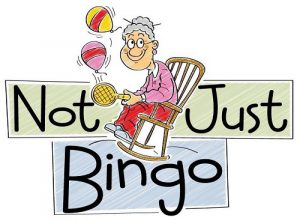 Not Just Bingo is an online resource of fun, senior activity ideas for activity professionals of nursing homes and assisted living facilities. They have been providing fun activity ideas online since 2009, and continue to assist activity professionals across the country by creating meaningful and engaging activity ideas for their residents that go "beyond bingo." Not Just Bingo feels privileged to help activity directors better the living experiences of their residents while demonstrating that a senior's quality of life can actually improve when they move to a nursing facility!
Want even more ideas each month? Sign up for the Notjustbingo Membership to receive specialized activity ideas to keep your residents and staff engaged, active, and having fun!