It's finally summer and there are so many ways to celebrate with your senior residents. Here are 7 of our favorite activities from notjustbingo.com to add to your senior facility activity calendars for June, July & August.
Looking for  more fun summer ideas? View our article on 5 Ways to Host the Best Summer Carnival for Senior Residents.
1. Ice Cream Parties
Who doesn't like ice cream? So why not add in fun ice cream parties for residents for all three summer months. Create unique events, like an Ice Cream Tasting where you purchase unique pints of Ben & Jerry's ice cream and use plastic spoons to give everyone a taste, or you can make your own ice cream for everyone to sample. You can also have an afternoon social featuring the World's Largest Ice Cream Sundae using a small kiddie pool filled with gallons of different ice cream and tons of toppings for residents, staff, and family members to enjoy. Have a Popsicle Truck where you load your bag with Popsicles as you pass them out to passersby in the hallways, or even a Ice Cream Cake Baking Class to teach residents how ice cream cakes are made.
2. Lemonade Breaks
Keep your residents hydrated during the hot summer months by setting up several lemonade stands throughout your facility. Prepare pitchers of lemonade beforehand and place them at each stand, along with cups for residents to help themselves. Encourage residents to stop for a drink to stay hydrated.
3. Backyard Baseball Games
Throughout the summer months, organize fun baseball games in your backyard for residents to watch. Schedule team members to play family members, or host a fun Little League Party featuring the grandkids. If you have residents who want to play, simply set up a batting tee for them to use for hitting while having staff members run the bases for them. During the summer backyard baseball games, be sure to pass out popcorn and peanuts to residents as they root on their favorite team.
4. Friday Cookouts
Coordinate with Dining Services to provide more barbecued foods throughout the summer, like hot dogs and hamburgers on Fridays. Your facility's staff already looks forward to Fridays, why not have your residents look forward to Fridays too?
5. Museum Excursions
One surefire way to keep cool this summer is to stay indoors. Plan more indoor outings like museum excursions for residents to enjoy getting away, while also staying cool. Look for both large and small museums in your area. In fact, contact your county's historical department to find interesting historical landmarks – that have air conditioning – for your residents to visit.
6. Stargazing Nightcaps
Take advantage of the cool summer evenings by planning nightcaps on your facility's backyard patio. Serve small desserts like cookies and juice for residents to enjoy as they socialize and admire the sunset.
7. Summer Bake-Offs
Host fun bake-off events among the residents and staff members during the summer. If your facility has a Baking Club, get them involved as well. Coordinate competitions in which residents get to judge the winners after sampling the goodies. Consider purchasing inexpensive trophies to award the winners of your bake-off competitions.
About Not Just Bingo: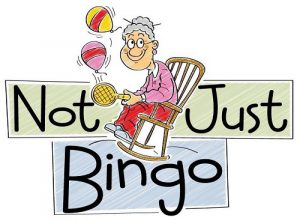 Not Just Bingo is an online resource of fun, senior activity ideas for activity professionals of nursing homes and assisted living facilities. They have been providing fun activity ideas online since 2009, and continue to assist activity professionals across the country by creating meaningful and engaging activity ideas for their residents that go "beyond bingo." Not Just Bingo feels privileged to help activity directors better the living experiences of their residents while demonstrating that a senior's quality of life can actually improve when they move to a nursing facility!
Want even more ideas each month? Visit www.notjustbingo.com for how-to activity ideas, monthly newsletters, and daily holiday ideas. You can also sign up for the Notjustbingo Membership to receive specialized activity ideas to keep your residents and staff engaged, active, and having fun!